Hoosier Energy, which supplies electricity to customers in 48 counties in central and southern Indiana, has settled a dispute
with John Hancock Life Insurance Co. that had threatened to plunge the utility into bankruptcy.
The companies
on Nov. 21 reached a tentative settlement of a lawsuit Hancock brought in October 2008, claiming Hoosier defaulted on a 2002
sale-leaseback of its Merom generating plant, according to a recent filing in U.S. District Court for the Southern District
of Indiana.
Hancock sought more than $120 million from Hoosier—nearly one-fourth of the utility's
2008 revenue.
In November of last year, U.S. District Court Judge David Hamilton issued a preliminary injunction
to block Hancock's demand for payment, saying if forced to pay, it was "highly likely" Hoosier Energy would
have to promptly file Chapter 11 bankruptcy.
Reed Oslan, a partner at Chicago law firm Kirkland & Ellis representing
Hoosier, declined to discuss terms of the settlement.
He said both sides planned to issue a statement later this
month.
Officials from Bloomington-based Hoosier Energy also declined comment.
A worst-case outcome
in court could have ultimately meant higher rates for the 800,000 consumers served by Hoosier through 18 rural electric cooperatives.
"We've been watching it very closely," said Chet Aubin, CEO of Johnson County REMC.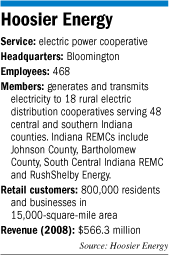 Hoosier Energy had become a national poster child—even being mentioned on the floor of Congress—for the
perils of a controversial type of financing arrangement known as "lease-in/lease-out" or "sale-in/lease-out."
The LILO/SILO deals came back to bite participants when credit markets tanked.
In 2002, Hoosier Energy
leased its 1,070-megawatt Merom station in Sullivan County to Hancock, which in turn immediately leased the property back
to Hoosier.
Hancock received the right to hundreds of millions of dollars in tax benefits involving lease payments,
depreciation and interest expense.
Hoosier netted about $20 million in cash, which it used for construction projects.
The cash was welcomed during a time of rising pollution compliance costs for coal-based generating plants.
A
few years after Hoosier's deal with Hancock, the Internal Revenue Service began challenging such transactions.
Hancock sued Hoosier last year after a firm that guaranteed the utility's lease payments suffered a credit downgrade.
In the midst of the national credit crunch, Hoosier couldn't line up a replacement fast enough to satisfy
Hancock even though the utility remained current on its lease payments.
A default would have not only entitled
Hancock to at least $120 million, but automatically triggered cross-defaults in Hoosier's contracts with third parties.
That could have given rise to hundreds of millions in additional liabilities, the utility argued.
In December
of last year, Sen. Max Baucus, D-Montana, cited Hoosier Energy's predicament of Hancock's attempting to collect
on a technical default.
Baucus noted the IRS found such lease-back deals essentially to be "sham tax shelters,"
calling them "among the most egregious abuses of the tax law."
A number of utilities and government
agencies have been burned by the deals, including St. Louis' Metro system.
For Hoosier Energy, the Hancock
legal case begat other problems. For example, earlier this year, Standard & Poor's lowered its rating on Hoosier
to "BBB-" from "A-".
Hoosier Energy is owned by distribution cooperatives and is structured
as a not-for-profit. It was incorporated in 1949 and generates power for 800,000 homes, farms, industries and businesses.•
Please enable JavaScript to view this content.