A month after Rich Burd took his life at the Ford dealership he and his wife, Chris Burd, built together in Lawrence, she's
still at a loss for an explanation.
The closest thing to any motivation
would be the general condition of the auto business, Chris Burd said, even though
the dealership was nowhere near insolvency.
She believes the economy
along with competitive pressures from unnamed rival dealers who weren't "warm and fuzzy"
might have played a role in convincing him that ending his life was best for her
and their four children, ages 12 to 19.
"It
was nothing unmanageable. Obviously in his mind it was unmanageable," she said. "You can't
understand something that doesn't make sense. So trying to is just going to make you
crazy."
The asphyxiation death of 43-year-old
Rich Burd on Nov. 10 came nearly a year after another local auto dealer took his life. Duke Gold, who
operated a Volkswagen and Subaru location in Speedway, died of a gunshot wound.
The brands have been taken over by former Saab dealer Bob Falcone at the same spot at
1935 W. 16th St.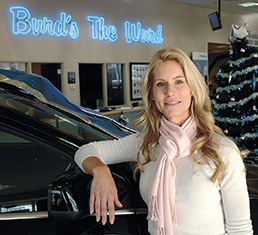 Chris Burd anticipates the green light from Ford Motor Co. (IBJ Photo/Robin Jerstad)
Chris Burd had worked alongside her husband throughout their 23 years of marriage, but said she had
no indication he was so distressed.
The day of his death, Rich seemed
to be the same selfless family man he'd always been, Chris said. He had talked with the coach
of their son's basketball team no fewer than three times about helping with the team, and the couple
had completed another of their long-running television commercials in which Rich would say, "Haven't you heard?"
and Chris would finish with, "Burd's the word."
The
evening concluded with their agreeing on a financial strategy for the business and Rich starting
to work on the idea. It was later that night, after he didn't come home, when she found him at
the dealership.
People who didn't know Rich well often took him
to be quiet, serious and even intimidating, she said, but at home he was more often
a fun-loving "goofball." He also was jokingly known in the family as
the "spelunker" because he caved in so often when it came to disciplining the
children.
None of that had changed on the last day of his life.

Rich Burd
Now Chris is back to making commercials for the state's fourth-largest Ford
dealership—with her 55 employees.
"Whatever
his reason for doing what he did, my reason for continuing is because of him," she said.
Chris, who kept an office next to Rich's, said the dealership is current
on debt payments for the $8 million location they built at 10230 Pendleton Pike
in 2006. They bought the dealership in 2000.
She knows more than a thing or two about the car business.
In addition to helping manage Burd Ford, she's a graduate of the one-year dealer academy sponsored
by the National Automobile Dealers Association, a ticket often sought by aspiring general managers.
Chris was vice president of Burd Automotive Inc.
and half owner of CB Holdings LLC, the company that owns the property.
In coming months, she anticipates the necessary thumbs-up from Ford Motor Co., then taking over the
dealership and moving on. Their sons, Nick, 15, and Jack, 14, have shown interest in coming into the
business someday.•
Please enable JavaScript to view this content.