Tough as it was, the Great Recession paled in comparison to the Great Depression, when Stout's Footwear Co. closed
three stores.
Last year, the family-owned shoe retailer saw revenue slide 7 percent, to $3.5 million, but Stout's
held its own against Nordstrom, Shoe Carnival and other big competitors.
Indianapolis-based Stout's isn't just surviving. It also is proceeding with plans to open
a store next year on the city's north side, bringing the number of Stout's Shoes locations
to four. The company owns a New Balance store in Greenwood, too.
Stout's also is beefing up its expertise in children's shoes, and—after several failed
attempts—renewing efforts to sell online.
"It's day-to-day," said co-owner Brad Stout, the fourth generation to run the company.
"Every day, you have to fight a good fight or it's gone. It's been one pair of shoes at a time
for [123] years."
Stout's version of the good fight involves leaning heavily on its history. Its landmark downtown
location is a throwback of sorts, from the store's décor—old-fashioned clocks and photos
from the early days—to the personal service that sets Stout's apart from big-box competitors.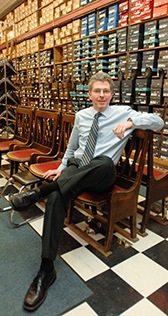 "Every day, you have to fight the good fight or it's gone," says co-owner Brad Stout.
(IBJ Photo/Robin Jerstad)
"If you're really taking care of your customer, your business can be very good these days,"
said Sam Poser, a senior research analyst at the Birmingham, Ala.-based Sterne Agee investment brokerage.
"We think there is opportunity in this market for developing relationships with the consumer."
Another distinguishing characteristic for Stout's: its Baldwin Flyer system.
Installed more than 81 years ago, it is a series of pulleys, wires and baskets designed to move shoes
across the Massachusetts Avenue flagship. When a customer is ready to purchase a pair of shoes, an employee places the
product in a basket. He or she then pulls on a connecting wire that elevates the basket high in the air, near the ceiling,
then across the store to the office loft.
A second employee checks the shoes for any abnormalities, wraps the shoes and shoots the basket back
down, diagonally across the store, to the checkout counter. The shoes are packaged and the customer is
on his or her way.
"It's all part of the show," said employee Walter Kuhn, smiling.
The Baldwin Flyer system is no longer the time-saving device it was when Stout's first used it in 1928. The
manufacturer is out of business, too, which makes Brad Stout the one responsible for making repairs. But the novelty machine
brings customers back to see the store.
Brad loves going down to the often-overlooked basement, which has remained almost untouched since it
was constructed. The basement looks much like a dungeon, with mostly gray, cement walls and tight spaces.
The non-concrete walls are made with wood from shoe crates and decorated with graffiti from employees dating as far
back as 1935.
After a pipe leak flooded the basement three years ago, an employee found the original ledger used to
keep the company's finances. It still has the original submission of $51.36 on March 20, 1886.
Now a co-owner along with his sisters, Wendy O'Brien and Julie Stout, Brad returned to Indiana
in 1982 with an MBA from Southern Methodist University in Dallas and plans to attend law school or pursue
a career on Wall Street. He had no intention of entering the family business.
But the shoe store was growing and his father, Harry Stout, was renovating property around the Mass Ave
location downtown. Brad had enjoyed working at the store as a child, pasting labels on shoeboxes for his grandfather.
So he started working for his father.
Within a few weeks, Harry dragged him down from the office loft to start selling shoes. Brad didn't
like it at first but, looking back, he said he never would have learned how to run the business without
knowing how to sell.
The business's long-standing success is a testament to the family's
ability to do both.
 "[Stout's] has been a retail anchor and continues to be," said David Andrichik,
co-founder of the Massachusetts Avenue Merchants Association. "They have the history and the expertise
to stay successful and continue to draw people from all over Indiana to their stores."
Indeed, Stout's old-school service keeps customers coming back.
Repeat customers include Michael Theobald and his wife, Mary Ann. The store is especially important for
Mary Ann, who suffers from plantar fasciitis, a foot inflammation, and needs to be sure her shoes fit correctly.
The couple, who travel to the Indianapolis store from Greensburg in southeastern Indiana, have shopped for shoes
online but keep returning to Stout's.
"I learned a long time ago, if I can keep [Mary Ann's] feet happy, she's happy,"
Michael Theobald said. "We just like the brands and the people [at Stout's]. They are professionals.
They know what they are talking about and they are not pushy."
Stout's also is adding expertise in the children's market through its recent hiring of Sue
Axlerod-Tooly. Axlerod-Tooly brings 40 years of experience running Indianapolis-based Richard's
Shoes for Children, which is closing at the first of the year.
Stout said the addition will bring more inventory and knowledge to make the shoe store more competitive.
Stout's also is trying to make a better presence online through Brad's son, Brady Stout.
"We've failed at e-commerce so many times," Brad said. "I can't do it.
[Brady] has a real sense for how to get it done, though."
Brady, 23, a recent graduate of Indiana University, also sells shoes at the company's Carmel location.•
Please enable JavaScript to view this content.