For guidance through the FDA's complex approval process, many life sciences firms turn to Safis Solutions LLC.

Its CEO, Ping Poulsen, has spent her whole life navigating new situations.

"You have to put your heart and soul into what you do, and you'll enjoy the results," she said.

Poulsen founded locally based Safis in 2002, originally with the narrow goal of providing information-technology systems validation for biotech companies. Since then, the company has grown substantially. Today, Safis is a full-service life sciences regulatory compliance consultancy, boasting 20 employees and $4 million in annual revenue.

A Chinese native, Poulsen first learned the intricacies of government, business and biotechnology in her homeland. In the 1980s, China was just beginning to open its borders to foreign investment. Poulsen had learned English listening to Voice of America on the radio. While working for a Chinese medical school, she became a liaison to the United Nations and the World Health Organization.

Poulsen
That experience encouraged her to apply for graduate school in the United States. Three accepted her: Cornell University, the University of Southern California and Oklahoma State University. She chose Oklahoma after a visit to the U.S. Embassy, where an immigration adviser informed her about the relative cost of living in New York, California and Oklahoma. In Oklahoma, she studied investigative journalism, focusing on health law, federal regulations and statistics.

After graduation, Poulsen worked briefly for Houston-based Halliburton Co., but didn't like the environment of endless meetings in which her suggestions weren't valued. An IT consulting job with a small company lured her to Indiana in the early 1990s. Two similar jobs later, Poulsen was ready to try going solo.

"When you have a vision, you can start from ground zero and build," she said.

Poulsen embraced entrepreneurship with the same enthusiasm that had previously led her to win track and field events in China. Her office still boasts all her old trophies, as well as one for winning a U.S. technical writing competition, and, more recently, Indiana's pingpong state championship.

Her business philosophy from the start was simple: Attract the best, most knowledgeable talent she could find, pay competitive salaries, and stay out of the way.

"If you hire the right people with the right skills and trust their ethics, all you have to do is let them help the company to grow," she said.

With the help of Eli Lilly and Co., a Safis client, Poulsen also earned formal business training. Lilly sponsored her through its supplier diversity development program, explained Holli Harrington, the program's director. Through the Amos Tuck Minority Business Executive Program, Lilly helped Poulsen sharpen her business skills, from strategic leadership to financial analysis. The drugmaker sponsors two to six people in the training annually, Harrington said.

"What we look for is a business that's in good standing with Lilly, and based on their business model, we can see potential opportunity for them aligned to some of our internal business needs," Harrington said. "[Now] you see [Poulsen and Safis] continually being considered for opportunities across business functions in the corporation. To me, that's the sign of a person who's growing within their business."

After participating in Lilly's program, Poulsen said, she soon doubled both her number of customers and her annual revenue.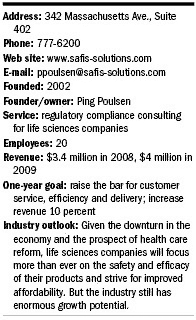 From almost the start, Safis received top-notch support. Its first home was inside Indiana University's Emerging Technologies Center, its high-tech business incubator on the Central Canal. Safis also participated in the Greater Indianapolis Chamber of Commerce's Slingshot program, which matches startups with large, established local firms that would make logical customers.

Ice Miller LLP partner Myra Selby, one of Poulsen's mentors, said she's particularly impressed with her friend's quiet confidence. Selby recalled a time a Safis client disagreed with Poulsen's professional opinion, and became openly insulting about it. Poulsen, whose opinion ultimately proved to be correct, turned to Selby for advice on how to handle the situation.

"Ping's recommendation … was based on her analysis and prior experience. She's a very humble person, but she has a razor-sharp intellect in her field," Selby said. "What she knows, she knows dead cold."

"It was so impressive to see Ping have the strength of being very clear on what she knew and what she could offer and accomplish, even in the face of an individual who wasn't hearing it," Selby added. "She does not need the accolades, the strokes, the sort of external indicators of success, because she is much more interested in being sure that she's giving the right information, the right answers and the right client service."

Safis attracts most of its clients via word-of-mouth. Roger Miller, the retired Indianapolis site head of antibiotics developer Targanta Therapeutics Corp., leaned on Safis for regulatory-affairs advice and quality-control consulting in its manufacturing. He said Safis is customer-oriented, with a strong understanding of a small startup's needs.

"She was very focused on making sure they got just what they needed, but not more," Miller said. "[Poulsen] is sensitive to the tight financial resources these companies have, not pushing more work or charges on them than are really needed."

"I'm confident we got to the target faster than we would have without them, and we probably got there with less expense," he added.

Her native land is on the other side of the world, but these days, Poulsen is as well-networked as anybody in the local life sciences industry. She readily shares Safis' connections. Wade Lange, CEO of tiny local startup ImmuneWorks, is working on developing therapies for autoimmune disease. Lange said he hired Safis because "we don't speak FDA." He soon found her network of contacts just as helpful as her formal regulatory-consulting advice.

"Ping, through her connections in Asia, can potentially align us with partners in China," Lange said. "And because of Safis' work doing due diligence for investment firms, she's a connection for investment capital as well. It's a network, there's no doubt about it. You're always looking for connectors, and she's great with that."•