The Indianapolis Symphony Orchestra experienced a year of financial and leadership shocks, as it reported a $2.8 million
budget shortfall and abruptly dismissed Music Director Mario Venzago.
Drops in ticket sales, annual donations
and endowment income contributed to the ISO's historic budget gap. Parent organization the Indianapolis Symphony Society
reported ending the fiscal year Aug. 31 with $28.3 million in expenses and $25.5 million in revenue.
The ISO
will be working with a $26 million budget this year. The shortfall is projected to be $1.3 million.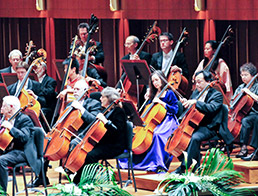 The ISO is working without a music
director this year. (Photo Courtesy ISO)
At the same time, the ISO is searching for a new music director, a process
that's expected to take two years.
CEO Simon Crookall decided July 30 not to renew Venzago's contract,
which expired Aug. 31. The ouster surprised musicians and Venzago, who could have expected a more graceful and gradual exit
under the conventions of classical music.
Venzago's dismissal was most surprising because it came just
two months before the start of the fall season.
Crookall took heat for embarrassing Venzago, but he argued that
time was of the essence. Venzago, who lives in Germany, did not intend to work in Indianapolis long term. Crookall argued
that it would be better for the ISO to recruit a new director—one who could generate excitement for the orchestra—as
soon as possible.
Musicians and fans credited Venzago, who was hired in 2002, with elevating the orchestra's
performances, but Crookall said he failed to engage donors on a personal level.
The ISO also has the challenge
of beefing up its endowment, which fell to $85 million as of Aug. 31.
ISO Foundation provides significant support
for general operations, but those cash contributions have represented more than 8 percent of the endowment's average
value.
The orchestra is slowly weaning itself off that level of support to preserve the endowment's principal.
The orchestra includes 87 musicians, though a number of full-time posts remain open. The musicians' guild
this fall agreed to pay cuts that will save the ISO $4 million over the life of a new three-year contract. The pay cut is
12 percent in the first year, but 10.5 percent will be restored by 2012.
Crookall and administrative staff also
took pay cuts.•


Please enable JavaScript to view this content.