Two more local homebuilders fell victim in 2009 to the prolonged meltdown of the housing market.
Carmel-based
C.P. Morgan Communities LP closed in February, and Indianapolis-based Hansen & Horn Group Inc. is teetering on the edge
of bankruptcy.
In December, Hansen & Horn turned over control of the company to a court-appointed receiver,
which will attempt to pay off debts.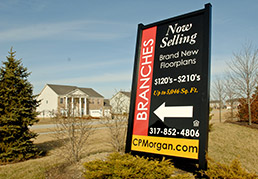 C.P. Morgan built thousands of homes but couldn't survive the downturn. (IBJ File Photo)
A judge's
order directed Rick Lux of R.P. Lux Co., an Indianapolis-based real estate services firm, to determine whether Hansen &
Horn should remain in business, be partially liquidated, or completely liquidated. Lux is set to make his recommendation to
the court Feb. 22.
A lawsuit brought by one of its suppliers, Indianapolis-based C&R Concrete Inc., prompted
the receivership. C&R is seeking to recover $268,749 in concrete work done during the past three years.
In all, Hansen & Horn is facing at least 20 lawsuits brought mostly by subcontractors hoping to recover more than $1 million.
Hansen & Horn is building in more than 20 subdivisions in central Indiana, including Duke Realty Corp.'s
mixed-use Anson development in Boone County near Whitestown.
The company has regularly ranked among the top residential
construction companies in the Indianapolis area over the past decade, building more than 200 homes during several of those
years.
That pales in comparison to C.P. Morgan's output. It typically had ranked as the top builder in
the city, constructing more than 2,000 tract-style homes during the housing boom earlier in the decade. By 2007, its production
had been cut in half.
The residential market may be improving, however. Pending home sales in November rose 3.3
percent, compared with the same month a year ago. The increase was much smaller than it had been in the previous two months.
Pending sales climbed 20.1 percent in October and 12 percent in September compared with the same periods in 2008.
Experts attribute the uptick to the new homebuyers' law that extends an $8,000 tax credit for first-time buyers that
was to have expired in November. It now covers homes purchased or under contract through April 30 of next year. It also created
a $6,500 tax break for homebuyers who lived in their previous residence at least five years.•


Please enable JavaScript to view this content.