Lest you face the same confusion we did, let me state right away that Richard's Pizza Kitchen (229 S. Main St., Franklin, 738-3300) is not the same thing as Richard's Kitchen.

The latter is Franklin's elegant home of steaks and seafood. And that's where we showed up after thinking we had made a reservation at the former in hopes of catching a meal before a screening at the nearby Artcraft Theatre (a must-go for a great, old-fashioned moviegoing experience—but that's another column).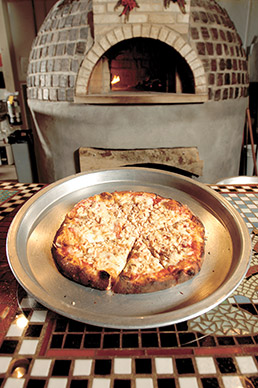 Garlic Chicken Pizza is a Richard's Pizza Kitchen highlight. (IBJ Photo/Robin Jerstad)
Richard's Kitchen was filled—and our reservation was confusingly missing. But we were told that Richard's Pizza Kitchen had seating. Confused, we took the sidewalk to another entrance and found the open-designed eatery dominated by a wood-fired brick oven that looked sizable enough to house a family of Eskimos.

The discs cooked therein dominate the menu. We tried a Margherita Pizza ($10) featuring tomatoes, fresh basil, fresh garlic, mozzarella and sauce. Left in the oven just a minute or so too long, its blackened crust interfered with a subtle mix of flavors. We divided a second pie ($11), topping half with small curved-in-the-cooking pepperoni and the rest with satisfying slivers of garlic chicken. The thinness of the crust and the not-quite-personal, not-quite-whole-pie size made the pizzas seem more like appetizers than meals. But both won our pizza-loving hearts.

We supplemented with a House Salad ($5), tossing mixed greens, carrots, grape tomatoes, olives and mozzarella in a Puccini's-esque house vinaigrette. And we couldn't resist an order of Cheesy Garlic Pinwheels ($4). These doughy mounds, offering much peel-and-eat pleasure, disappeared quickly from our four-top.

Only two items are featured on the pasta portion of the menu (except on lasagna-night Wednesdays). We went with Meatballs Marinara ($9), which featured the same sweetly delicious sauce as the Pinwheels and a bed of fettuccini. Desserts are limited to Gelato with Almond Biscotti ($6), Panna Cotta ($6), and our choice, a restrained Tiramisu ($5) that satisfied all around.

Service was, alas, of the amateur-hour variety, with our waiter leading us to speculate that a desperate call must have been made to an inexperienced cousin for help on a not-that-busy night. Otherwise, Richard's Pizza Kitchen has charm and enormous potential—a worthy opener for an Artcraft Theatre double bill.•

—Lou Harry

__________

First in a month-long series of visits to new pizza places.