The Purdue School of Engineering and Technology at IUPUI recently dedicated the Carrier Fluid and Thermal Science Laboratory.
Over the past four years, Carrier Corp. has donated $71,000 for the purchase of equipment and software that will
allow mechanical engineering students at IUPUI to do more advanced work.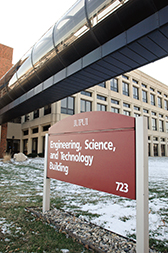 Carrier Corp. donated equipment for a mechanical
engineering lab at IUPUI. (IBJ Photo/Robin Jerstad)
Carrier Corp., based in Farmington, Conn., has its gas-furnace
factory and an engineering group in Indianapolis. The company is a unit of United Technologies Corp.
"Carrier
believes strong support of this program has mutual benefits to the community and the company," John Galbraith, vice
president of engineering at Carrier, said in a prepared statement. He noted that 27 IUPUI graduates have worked for the company
over the years.
IUPUI's former labs allowed students to learn the basics of heat and mass transfer, but
instruments were not advanced enough to concentrate on the design of thermal-fluid systems.
Please enable JavaScript to view this content.