Locally based Buckingham Cos. has won the right to redevelop a two-acre property at 860 W. 10th St. near the IUPUI campus.
The developer plans to tear down the former YMCA branch and replace it with a $20.5 million mixed-use project featuring
retail space, a fitness center and 210 apartment units.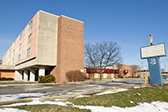 The former YMCA site is slated for redevelopment as
retail and housing. (IBJ Photo/Robin Jerstad)
The Center Township Advisory Board, which owns the property, had sought
a project compatible with the Indiana Avenue Cultural District and nearby IUPUI and hospital campuses.
Buckingham
will pay $225,000 in rent per year and has an option to buy the property after five years for an additional $3.3 million.
Buckingham also agreed to fund $15,000 in college scholarships per year for 20 years for students at Crispus Attucks High
School. Buckingham has constructed similar projects near the campuses of the University of Notre Dame in South Bend and
the University of Kentucky in Lexington.
The structure, designed by locally based CSO Architects, is designed
to be "refined and hip," according to bid documents. "It has a defined base, with street-level detailing,
a middle, and a cap element along its roof line. The storefront at the plaza is shown pulled out from the main core, providing
visual interest with the scale change, as well as creating the opportunity for a rooftop deck."
Please enable JavaScript to view this content.