I've often said that if I had to pick one food to eat every day, it would be pizza. After a couple of visits to restaurateur
Neal Brown's new place in Carmel, I feel compelled to revise that statement: If I had to pick one food to eat every
day, it would be Pizzology pizza.
The creative culinary force behind the now-shuttered avant garde Broad Ripple
eatery L'explorateur, Brown is back. And I couldn't be happier about it.
Pizzology (13190 Hazel
Dell Parkway, Carmel; 844-2550) is a study of contrasts: Simply sophisticated. Everyday upscale. Sinfully pure.
The restaurant itself looks like any other strip mall eatery—until you take in details like the chalkboard walls,
brown-paper table "cloths" and wood-fired pizza oven. And then there's the pie.
Much has been
made of the regional pizza debate: Chicago or New York? Thick or thin? Stuffed or topped? At Pizzology, Brown comes down firmly
on the side of … Italy.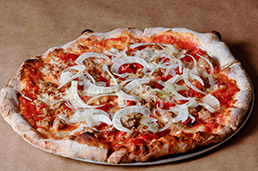 Pizzology's heavenly crust and fennel sausage are reason enough to order the eatery's most popular pizza. Sliced
onions, fennel and sweet red peppers add to the bounty. (IBJ Photo/Robin Jerstad)
Pizzology pizza is an homage to
the old country—Naples, to be precise. The cracker-thin crust and minimal ingredients harken back to the days when pizza
was Italian street food. Even the toppings are old-school, featuring sausage and mozzarella that has never seen the inside
of a delivery truck.
The menu is simple: pizza, pasta and assorted appetizers. Dessert isn't made in-house,
but the gelato ($4) and tiramisu ($6) come from local vendors.
We were determined to concentrate on the main
attraction, but couldn't resist starting with the intriguing Grilled Romaine ($8) appetizer. Grilled lettuce? Oh, yeah.
A baby romaine heart is lightly grilled—just enough to begin wilting and bring out a hint of nutty flavor—and
tossed in an herb-yogurt dressing. Add in the sliced cherry tomatoes and nuggets of mozzarella made from Trader's Point
Creamery cheese curds and you might just forget the main attraction.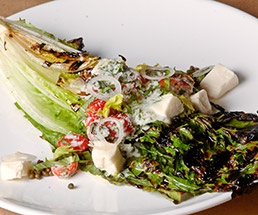 Grilled lettuce? Oh yeah. Pizzology's
Grilled Romaine is worth the risk. (IBJ Photo/Robin Jerstad)
Lucky for me, I'm capable of remarkable focus.
It took two visits and two helpers, but we tried five of the house specialties ($13 for 13 inches of hand-shaped
pie), eschewing the build-your-own option ($11 plus $2 to $3 per ingredient) in favor of the chef's creations. We enjoyed
them all—Homemade Sausage, Homemade Pepperoni, Four Cheese, Napoli and the fancier Mortadella (our lone foray into the
sauce-less Pizza Bianca category).
Our favorites were the old standbys, something that surprised me since I don't
like sausage. I don't even like sausage pizza. But Pizzology's crumbled house-made fennel sausage, topped with
slivers of onion and fennel and accented by the sweet heat of roasted sweet peppers, made me a believer. The restaurant's
pepperoni was another winner, delivering an unexpected—but welcome—punch of spiciness. I wasn't sure what
we'd think about the four-cheeser, since I had never even heard of two of them (taleggio and caciocavallo), but the
combination was yum-inspiring, nonetheless.
The Napoli was simple—just cheese and oregano, near as we could
tell—but still solid. Likewise, the Mortadella was good, if not quite as fiery as we expected from pizza topped with
slices of what was billed as spicy capicola. Still, the Italian ham had a nice flavor that went well with the garlic, olive
oil and arugula.
All the ingredients were obviously high-quality and packed with flavor, but the shining star
at Pizzology was the crust. Oh, that crust. It's somehow crispy and chewy, thin and hearty, blackened
and moist. It looks like hell and tastes like heaven—the perfect fuel to get me through the rest of my days
on earth.•
–Andrea Muirragui Davis
__________
 Second
in a month-long series of visits to new pizza places.
Please enable JavaScript to view this content.