The Flying Cupcake Bakery is opening a second location, along Massachusetts Avenue next door to Scholar's Inn. The
new outlet for the cupcake spot owned by entrepreneur Kate Bova is slated to open in the summer. The original location is
at 5617 N. Illinois St.
Bobby Joe's Beef and Brew, a popular home-grown restaurant at Southport Road and
Interstate 65, has closed. The late Indianapolis sportswriter Bob Collins and his wife, Kristin, opened the adults-only restaurant
in 1995. Collins died shortly thereafter, but Kristin kept the tradition alive. The walls were adorned with mementos of Collins'
career, including the basketball from Coach Bob Knight's 500th victory.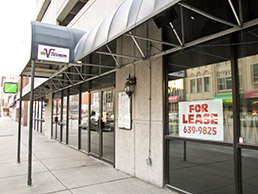 The former Vito's on Penn, just
north of Washington Street, is now vacant. (IBJ Photo/Tawn Parent)
Riviera Maya, billed as an authentic Mexican restaurant,
is slated to replace Old Town Ale House in Fishers, according to signs posted on the building along 116th Street. The Ale
House closed in October. No word yet on an opening date for the new restaurant.
Friaco's, a Mexican restaurant,
is replacing Stefano's near the Super Target in Fishers. The concept is owned by the same group that operates Pancho's
Taquiria on Michigan Road and two Friaco's locations in Chicago.
Vito's on Penn, a downtown outpost
of Southside staple Vito Provolone's, has closed. The Italian restaurant along Pennsylvania Street just north of Washington
Street briefly offered a $5.99 lunch buffet, before "for-lease" signs appeared in the restaurant's windows
in December.
Please enable JavaScript to view this content.