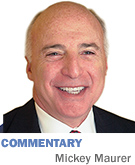 Last November, Katz Sapper and Miller went back to school.
According to the 2009 IBJ Book of Lists, KSM is the largest central-Indiana-based accounting firm ranked by number of certified public accountants. In business since 1942, the firm engages in all areas of accounting, including audit, tax and consulting services. To maintain proficiency and comply with state law, the KSM accountants, like all Indiana CPAs, are required to attend professional education classes throughout the year. But on Nov. 6, they all went to the same school—Broad Ripple High School—on the same day.
Broad Ripple (now called Broad Ripple Magnet High School for the Arts and Humanities) has been a valuable component in the Indianapolis Public Schools system and a landmark in Indianapolis since 1886.
Schools that old require greening up from time to time and KSM provided just the re-leaf that was needed. The 215 KSM volunteers, working alongside high school students, planted more than 50 trees on the campus. They also planted perennials and daffodil bulbs and constructed five planter benches, including a structure made from materials that once covered the RCA Dome. Drive by the refurbished campus this spring at 1115 Broad Ripple Ave. and you'll see a luxuriant green space available for students and faculty of the school and the entire Broad Ripple community to enjoy.
Early last year, KSM Managing Partner David Resnick wanted to establish an annual, firm-wide volunteer day of community service. He contacted Keep Indianapolis Beautiful Inc., an organization whose mission is to unite people to build community and transform public spaces through aesthetic and environmental improvement.
In 2009, KIB engaged more than 45,000 volunteers, collected almost 2 million pounds of litter, and planted more than 4,000 trees. KIB has a goal of planting 100,000 trees in the city between 2007 and 2017.
In an effort to support Indianapolis schools, KIB paired Broad Ripple with KSM. In a similar manner, KIB benefited 38 schools in 2009 by pairing them with Indianapolis companies, including American Structurepoint and State Farm Insurance. Most notable among KIB's many partners is Eli Lilly and Co. On a single day last year, 8,500 Lilly volunteers completed 52 projects, including sprucing up 18 schools.
United Way of Central Indiana orchestrates a similar program called Day of Caring. It is a day of hands-on volunteering involving projects that primarily benefit United Way agencies. Those projects can be tackled on a team basis, and United Way can match your corporate team with a community project.
Although KSM's motivation was undoubtedly charitable, its management is aware that consumers prefer to purchase goods and professional services from companies whose employees volunteer. Moreover, companies' social responsibilities play an important role in attracting and retaining quality employees. Enlightened CEOs know that company philanthropy not only enhances the corporate logo in the eyes of the consumer, but also provides an opportunity for team- and morale-building and leadership development. The converse is also true. Lack of corporate social responsibility can bring serious damage to a company's reputation and financial vitality.
Self-interest may be a perfectly legitimate reason for corporate philanthropy; however, the compelling reason to get involved lies in the responsibility to support the community in which a company operates. The level of the responsibility should be commensurate with the degree of success the corporation enjoys.
KSM has been successful in our community for years. In an effort to balance the books, it has established a policy of taking a community day each year. The Broad Ripple project was the first installment. You, too, can balance the books. Ask yourself how your corporation measures up in terms of social responsibility and community citizenship. Contact Tammy Stevens, director of volunteers for Keep Indianapolis Beautiful Inc. at TStevens@kibi.org or Alan Witchey, director, Volunteer Center, United Way of Central Indiana at Alan.Witchey@uwci.org and arrange for your community day.•
__________
Maurer is a shareholder in IBJ Corp., which owns Indianapolis Business Journal. His column appears every other week. To comment on this column, send e-mail to mmaurer@ibj.com.
Please enable JavaScript to view this content.