There was a time when grain farmer Jon Sparks might have lost sleep over the "for-sale" sign posted at one
of the many tracts he rents in Hancock County.
Sparks does not own most of the 1,300 acres he has under
plow, so he could lose a significant chunk of his livelihood to Indianapolis' suburban growth. Since the market for
new homes went bust, however, that's a more distant concern.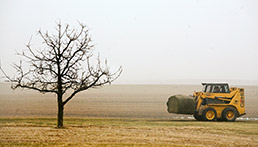 Hancock County farmer Jon Sparks grows hay for
dairy farms on land owned by his neighbors. (IBJ Photo/Perry Reichanadter)
"I don't
think it's going to go anywhere with the market the way it is," Sparks said. "We'll
just deal with it when the time comes."
Farmland in the Indianapolis suburbs disappeared steadily during
the housing boom. The trend shows up readily in the number of acres planted in soybeans and corn, which
represent 90 percent of crops planted in Indiana.
Acres planted in Hamilton, Hancock, Hendricks
and Johnson counties declined 13 percent between 2000 and 2008, from 520,800 to 449,900.
Purdue University professor Craig Dobbins expects that number to level off for the next two years. Already, the real estate
slump has halted tax-free land exchanges, which farmers used to trade land on the urban fringe for more rural acreage, Dobbins
said.
The downturn also has allowed some farmers to buy land that was too expensive before. "So for farmers,
in terms of their viability, this could be a good thing," Dobbins said.
Dobbins noted, however, that the
suburban march likely will resume, and land prices will continue upward. "It's just not possible for farmers producing
commodities to compete with people who want to build shopping centers and homes," he said. "Even if you're
producing high-value crops, you're still at a competitive disadvantage."
Cicero grain farmer George
Kakasuleff said his family, which farms about 3,800 acres, seized the chance to buy a 100-acre tract after the landlord's
future development prospects dried up.
The purchase doesn't add to the Kakasuleffs' acreage, but
it will mean greater security for George and his brother, who want to continue the business.
"It really
is a very good thing," the 27-year-old Kakasuleff said. "You don't have the risk year in and year out."
Ag land prices range from about $3,350 per acre for poor quality to just under $5,000 per acre for high quality,
according to a Purdue ag economics report last August. The price of developable land may be several times higher. The owner
of a farm near Kakasuleff's newly acquired tract, for example, is asking $18,000 per acre. "Obviously they don't
have much chance of getting it today, but they're still asking it," Kakasuleff said.
Farmers certainly
sold their share of prime land for development. Sparks said his parents, aunt and uncle secured their retirements by selling
his grandfather's farm near Mount Comfort Road to University Loft in 2006.
Sparks, 34, carries on farming
alongside suburbanites. That means working a 50-acre tract that's bordered on two sides by The Havens, a residential
community southwest of Greenfield. "You definitely pay attention when you're spraying [herbicides]," he
said. "You can make a lot of people mad in a hurry if the wind is blowing the wrong direction."
Sparks
developed symbiotic relationships with homeowners living on five- and 10-acre lots who didn't want to maintain such
enormous lawns. They happily rented to Sparks, who added the lots to his side business in growing hay
for dairy farms.
The arrangement works well, Sparks said, as long as he's mindful
of such things as keeping heavy equipment off a newly paved driveway.
"The attention
to details is important," hesaid.
Many farmers who end up surrounded by suburbs convert
to retail or agri-tourism businesses. Think U-pick apple orchards and vegetable stands.
"These are fairly
resourceful people for the most part, so they come up with a whole variety of things," said Dobbins,
who teaches farm management.
Conventional farmers who work on the urban fringe have a high-profile
ally in Joe Kelsay, a Johnson County dairy farmer who was appointed director of the Indiana State Department of Agriculture
in August.
Kelsay Farms is in Whiteland, just east of Interstate 65. Until he accepted the state job, Kelsay,
33, worked full time with his father and brother milking 500 cows and raising grain crops on 2,200 acres.
"There's
room and a need for all sizes of agriculture," Kelsay said in a recent interview.
Kelsay's wife,
Amy, has made the farm a popular place for school tours, but the family, which supplies milk to Dean Foods in Louisville,
has no intention of turning the farm into one that's for show only.
Kelsay said his family expanded the
farm after he and his brother returned home from college. The Kelsays sold land abutting U.S. 31 and picked up ground in a
more rural location. They also bought land from a Johnson County farmer, who moved to northern Indiana.
Kelsay
said his family also has discussed whether to move the operation to a more rural—and less costly—setting, but
decided against it.
"It's not all about dollars and cents," said Kelsay, who is the sixth generation
to farm on land granted by President Martin Van Buren. "It's about being a part of that community."•
Please enable JavaScript to view this content.