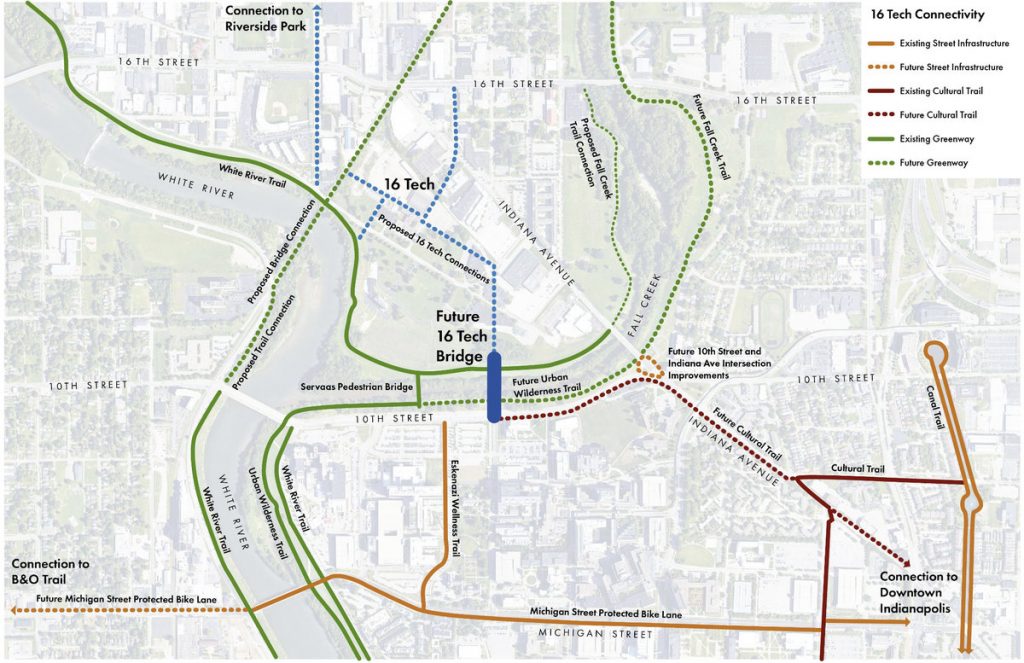 16 Tech is launching an international design competition for a $14.5 million bridge that will lead into the innovation district and is intended to serve as a signature structure for the region.
The 16 Tech Community Corp., the not-for-profit guiding the 50-acre development on the northwest edge of downtown, on Friday issued a request for qualifications and proposals for the structure, which will span Fall Creek from 10th Street and Riley Hospital Drive into 16 Tech.
16 Tech is aimed at building collaboration among innovators and entrepreneurs in life sciences, technology, advanced manufacturing and engineering in what organizers describe as live-work-play-learn environment.
Numerous projects are underway in the $500 million development, including a fully leased office and research building scheduled for completion this summer, and renovation of a former Indianapolis Water Co. building into flexible office and incubator space, a makerspace and an artisan market with food, entertainment.
16 Tech said it is inviting teams from across the nation and around the world to respond to its request.
The bridge will be funded by Lilly Endowment Inc. and the city of Indianapolis. The Lilly Endowment's share will come out of a $38 million grant the foundation awarded 16 Tech in 2018, much of it earmarked for public space design.
The bridge will span 350 feet. In addition to accommodating vehicles, it will serve pedestrians and bicycles and will connect to walking and biking trails.
"This project will become one of the design centerpieces of the near-westside, forming a new artery that connects our region's nationally ranked research corridor to 16 Tech and the surrounding neighborhoods," Mayor Joe Hogsett said in a statement.
A committee of local and national experts in design, public transportation, urban planning and landscape architecture is partnering with 16 Tech to review and recommend a team for the project.
The selection committee is chaired by 16 Tech board member Marya Rose, vice president and chief administrative officer of Cummins Inc., and includes Matt Shaw, contributing editor of Architect's Newspaper; Shin-pei Tsay, director of policy, cities and transportation for Uber; and Sara Zewde, founding principal, Studio Zewde, which is based in Seattle and Houston.
It also will include Indianapolis City-County Council President Vop Osili, Indianapolis Department of Public Works Director Dan Parker  and Adam Thies, a former Indianapolis Department of Metropolitan Development director who's now associate vice president of capital planning and facilities at Indiana University.
"The 16 Tech bridge will be more than a physical structure that allows people to travel from one place to another. It will be a landmark connector of people and ideas, which is at the heart of 16 Tech," 16 Tech CEO Bob Coy, said in a statement.
"16 Tech is looking for the best and most thoughtful designers to help create an emblem of innovation, ultimately making this one of the most beautiful places in our city."
The deadline to respond to the request is March 12. A short list of finalists will be announced by the end of March and teams selected to submit proposals will be invited to interview in Indianapolis at the end of April. A design team will be announced in May 2020, and the bridge is targeted for completion in late 2022.
Please enable JavaScript to view this content.