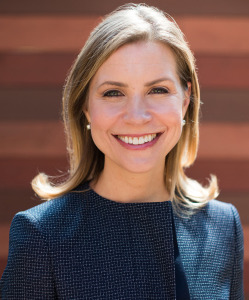 The 16 Tech Community Corp., which oversees the 16 Tech Innovation District on Indianapolis' near-west side, has named Emily Krueger to be its next president and CEO.
Krueger, 42, joined 16 Tech in May 2018 and currently serves as the organization's chief operating officer. She will assume her new position June 1, 16 Tech announced Wednesday.
Krueger succeeds Bob Coy, who plans to retire at the end of May. Coy has led 16 Tech since June 2017 and oversaw the first phase of development at the 50-acre campus. He announced his retirement plans in November.
Since 2018, more than $130 million has been invested in buildings and infrastructure in the 16 Tech district. The first building opened in August 2020, with tenants including the Indiana Biosciences Research Institute, the Central Indiana Corporate Partnership and the Indiana University School of Medicine.
A 132,000-square-foot building called HqO opened in March 2021 and includes a food hall and artisan marketplace called the AMP, plus a makerspace and flexible office space.
The district's newest building is the 65,000-square-foot Emerging Manufacturing Collaboration Center, or EMC2, which is set to have a grand opening this spring.
Work is also under way on a 650-space parking garage expected to open this year, and a vehicular and pedestrian bridge spanning Fall Creek that will connect 10th Street with the southeast part of the innovation district.
One of Krueger's key tasks as president and CEO will be to oversee future development of 16 Tech, whose master plan includes a central greenspace, a 250-unit residential building and a 140,000-square-foot office building, all of which are projected to open in 2024.
"Under Bob's leadership, 16 Tech has opened its first three buildings as well as attracted key anchors in life sciences, advanced manufacturing and technology," Krueger said in a written statement. "I'm excited to build on this proof of concept and to lead 16 Tech into the future, ensuring we that we have not just the physical spaces, but also the programs to support innovation, entrepreneurship, workforce and talent."
Prior to joining 16 Tech, Krueger served as chief of staff and vice president of administration at Indianapolis-based Lacy Diversified Industries, or LDI, which is one of the state's largest privately held companies. Earlier in her career, she worked for the late Sen. Richard Lugar in a variety of Capitol Hill and campaign positions.
Kruger has also been active with several local not-for-profits that focus on health and education. She is the past board chair of Greenwood-based Timmy Global Health, which helps people around the world gain access to primary health care. She has also served on committees for the Riverside Adventure Park, Kurt Vonnegut Memorial Library, Christel House International, the Lacy School of Business at Butler University and The Mind Trust.
"Emily has already played an essential role over the past few years in the remarkable transformation of 16 Tech from a promising idea into an exciting reality, and now she is in a great position to do even more," CICP President and CEO and 16 Tech board chair David Johnson said in a written statement. "She has proven her vision, capacity for collaboration and leadership to move the 16 Tech Innovation District forward over the pivotal years ahead. Emily has the board's full confidence and support."
Krueger will participate in 16 Tech's next quarterly community meeting, which takes place virtually from 9 a.m. to 10 a.m. Friday and is taking registrations.
Please enable JavaScript to view this content.