Indianapolis-based advertising agency TrendyMinds has signed a deal to handle the public relations and advertising for
Cincinnati Bell's three markets: Columbus, Ohio; Indianapolis; and Louisville.
Cincinnati Bell hired TrendyMinds
to develop public relations and advertising campaigns surrounding the company's telephone recycling promotion. The "Recycling
Makes Cents" campaign is already hitting the three markets in print and online advertisements.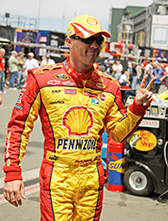 NASCAR's Kevin Harvick recently
extended his deal with TrendyMinds. (AP Photo)
"Cincinnati Bell is a well-known, well-respected company with
a huge presence in the Midwest," said Trevor Yager, TrendyMinds principal. "Their recycling promotion is an exciting
one to work on, especially given the 'green' movement in business."
TrendyMinds has landed
several other contracts this year, including branding consultation work for "The Complete Idiot's Guide"
series published by New York-based Penguin Group USA Inc., and public relations work for FlashPoint HR, an Indianapolis human
resource and management consulting firm.
The agency also has extended the contracts through 2010 to do interactive
work for NASCAR driver Kevin Harvick and interactive and public relations work for The Polis Center at IUPUI.
Please enable JavaScript to view this content.