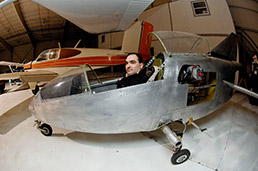 Anderson entrepreneur Pete Bitar of AirBuoyant with his BO-5. His next creation may land on the Moon. (IBJ Photo/
Robin Jerstad)
This would be an awkward introduction at a party, but here goes: Meet Pete Bitar,
a guy who invents non-lethal laser weapons and flying scooters. And he's planning to put a rover
on the Moon.
Ooo-kay … but try to suspend the disbelief for a moment. This
is a guy who five years ago so piqued the interest of Marine Corps Systems Command that officials met
him behind a Burger King to take delivery of his laser weapon prototype. A Washington Post reporter
described the cloak-and-dagger hand-off in a 2005 story on how entrepreneurs struggle to peddle their inventions
to the military.
And Anderson entrepreneur Bitar is—or at least was—a contender in the little-known "Google Lunar X-Prize."
It's an honest-to-goodness real contest sponsored by the Internet search giant to lavish $30 million on the first private
team to put a rover on the moon.
But Bitar the military contractor has landed not in the Sea of Tranquility but
in federal court, following a dispute with a former member of his team, LunaTrex. The California-based X Prize Foundation
has suspended the team, as a result of the legal battle over who owned the name and intellectual property rights of the team.
In December, U.S. District Court Judge David Hamilton issued an injunction preventing Bitar and the ex-team member,
Phoenix resident Mary Cafasso, from using the original LunaTrex name. Cafasso has 25 years of experience in orbital operations
and mission control at NASA and with the satellite industry.
Bitar said he plans to re-enter the competition
with most of the old team members, under the name LUNARecon.
"We haven't stood still," he said,
adding that work on a moon rover has continued, one "that will work very well on the lunar surface."
It's to be seen whether Bitar can keep together his team and re-establish ties with sponsors. He said that 11 of
13 team members were still with him.
"Nothing but the name is changing," Bitar said.
If his team is to succeed, it will need money—lots of it. Last year, Bitar estimated he'd need at least $12 million
to carry out the mission of designing and building a rover and to pay for a ride aboard a commercial or government-owned rocket.
The rift with Cafasso cost him a key sponsor—at least temporarily.
Bitar alleged in the suit
he filed against Cafasso last year that she sunk prospective sponsors for the team by creating a new company in Nevada using
the team name and raising questions about who actually controlled LunaTrex.
Potential sponsors, including Virginia-based
chainsaw maker Stihl Inc., pulled out.
Bitar told IBJ last month he's hopeful of resuming a deal
with Stihl and other sponsors. "We have the potential of about $1 million in sponsorship from Stihl alone."
Bitar said team members from around the country continue to work on a lander prototype. It and some of the components
for the actual vehicle could be constructed at his Anderson-based AirBuoyant LLC, a company developing a hovercraft and other
floating vehicles that some have dubbed as a flying version of the Segway.
Bitar is also founder and CEO of Xtreme
Alternative Defense Systems, or XADS, which is developing devices that use green lasers to disorient enemy troops and non-lethal
devices that produce electrical charges.
The firm has landed a number of federal contracts, including a $1.1
million contract with Crane Naval Surface Warfare Center, to provide 20 devices designed to counter improvised explosive devices
used by combatants in Iraq.
Earlier this month, XADS said it received preliminary approval of a contract with
the U.S. Air Force to use its green laser technology to scare birds away from airport runways.
The firms'
high-tech gadgets have earned Bitar national attention, including appearances on Discovery Channel and History Channel.
Fame to claim
But Bitar and his team of aerospace engineers from
around the county would become household names if they won Lunar X—not to mention wealthy, with a prize potential of
$30 million.
The winning team will be the first to actually land a rover on the moon that can travel over 500
meters on the surface while beaming video back to Earth.
The competition now has 20 teams in the running, said
Michael Timmons, spokesman for the California-based X Prize Foundation. Timmons acknowledged LunaTrex was suspended from the
competition but said it could reapply under a new name.
"We're probably going to do it in the next
month or so," Bitar said.
If all goes well this spring, he'll start searching for a ride for LUNARecon's
rover. Bitar plans to meet with the Russian Space Agency, among others, who have rockets capable of transporting it.
Though not an aerospace engineer himself, Bitar has on board his team experts from firms such as High Altitude Research
Corp., of Huntsville, Ala.
The team began forming in 2007 when, according to court records, a friend of Bitar's
ran across experts interested in such a moon venture while at a conference in New Mexico.
The effort advanced
to the point early last year that Bitar made a presentation to Stihl executives about a potential sponsorship.
Cafasso, according to court records, thought Bitar's budget estimates were too optimistic and worried that a failure
to deliver would harm her reputation.
Stihl liked the odds, planning to sponsor the LunaTrex team for nearly
$1 million over three years, according to court records.
Relationship craters
The relationship between Bitar and Cafasso deteriorated. She criticized his lack of aerospace expertise. He
cast her as hungry for money, testifying that her first reaction to the Stihl deal was, "When do I get paid?"
They split ways last fall, with both disputing who was the actual leader of the team and who owned the trademark.
Bitar argued that he'd spent hundreds of thousands of dollars of his own money to fund the team.
Judge
Hamilton, in a ruling last month, said although Bitar bore most of the out-of-pocket expenses, the entire team contributed
to the creation of the LunaTrex trademark. Hamilton issued an injunction barring either side from using it.
Then,
in late December, Cafasso filed a counterclaim. She alleged the team agreed to pay her $200,000 annually under a consulting
contract that was to last 18 months. Her counterclaim sought $300,000 in damages and alleged that she held trademark rights
that Bitar violated, making her eligible for additional damages.
Bitar's lawyers said no such contract
existed nor was one presented as evidence. They argued no trademark violation occurred because Bitar did not attempt to use
the LunaTrex name following Judge Hamilton's preliminary injunction last month.
Then, on Jan. 6, Cafasso
asked the court to dismiss her counterclaim, though her lawyer, in a letter to Bitar's counsel, hinted she may fight
on in the future in another venue. Bitar asked the court to deny her request to dismiss her counterclaim and is seeking a
permanent injunction that would put to rest all potential monetary claims in the future.
With four attorneys
working for him, "I've spent a lot of money in legal fees," he said, "literally hundreds of thousands
of dollars."
But, he added, "We're not going to knuckle-under."•
Please enable JavaScript to view this content.