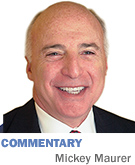 Did you ever see one of my favorite old cowboy movies, "Broken Arrow"? If you missed it the first time,
it has been reissued under a new title—"Avatar."
Broken Arrow, released in 1950, stars James
Stewart and Jeff Chandler and was nominated for three Academy Awards. It was one of the first major Westerns showing compassion
to Native Americans. The Stewart character, Tom Jeffords, assumes responsibility for mail delivery in the Arizona Territory
in 1870. In an effort to halt the Apache ambushes of couriers, he learns the language and customs of the Apaches and rides
alone into the camp of Cochise (Jeff Chandler) to seek a truce. That act of bravery so impresses the chief that he becomes
a friend and blood brother to Jeffords. While in the camp, Jeffords falls in love and marries Sonseeahray, played by 16-year-old
Debra Paget. Sound familiar?
The Native Americans in this flick do not run around like, well, a bunch of wild
Indians. They are multidimensional people whom you respect and admire—the good guys. It is the white renegades and gold-hungry
prospectors who cause all the trouble and create the drama that drives the screenplay. (The good guy/bad guy switcheroo was
reprised in "Dances with Wolves" (1990) with somewhat similar plot lines.) I recommend that you purchase a copy
of "Broken Arrow" from Amazon for $14.98, settle on the sofa with some homemade popcorn, and watch Jimmy Stewart
work his screen magic.
If you want to see a version of "Broken Arrow" set almost 300 years later,
purchase a ticket for "Avatar", nominated for nine Academy Awards, including best picture, and the number one
film of all time in terms of revenue (without adjusting for inflation) with $2.04 billion in global sales as of Feb. 1.
James Cameron and his cronies deftly lifted the Academy-Award-winning Albert Maltz screenplay of "Broken Arrow"
right down to the bows and arrows. The Wild West is now the moon, Pandora, and the indigenous species are far more threatening
than an Arizona rattler.
Unfortunately, the Maltz screenplay is far superior to the sophomoric banter in "Avatar",
but no matter. The entertainment value of the 3-D Imax technology under Cameron's artistic direction relegates the cowboy-and-Indians
yarn to a secondary role. Cameron creates a breathtaking world. Time refers to Pandora as "surely the most
vivid and persuasive creation of a fantasy world ever seen in moving pictures." (Broken Arrow was filmed in Technicolor
and won the Oscar for best cinematography.)
In "Avatar," Jake Sully, the space-age counterpart to Tom
Jeffords, is an ex-Marine played by Sam Worthington. He is recruited to spy on the enemy camp but falls in love with Neytiri,
a beautiful native princess (Zoe Saldana). Like Jeffords, he bonds and mates, then must deal with his own kind—the bad
guys who are covetous of the precious metal of the day.
If you are one of the few people in America who does not
wish to see "Avatar" or simply want to avoid the outrageous price of popcorn, watch "Broken Arrow"
instead. But that would be a mistake. "Avatar" is a cultural breakthrough that should not be missed. See both
flicks.
While we are discussing movies, I note that "Edge of Darkness" starring Mel Gibson has been
released. Please remember that, when Gibson was arrested in 2006 on suspicion of driving under the influence of alcohol, he
made a series of anti-Semitic remarks to the arresting officer, who was Jewish. That kind of hate knows no boundaries. Do
me a favor and boycott him.•
__________
Maurer is a shareholder in IBJ Corp., which owns Indianapolis
Business Journal. His column appears every other week. To comment on this column, send e-mail to mmaurer@ibj.com.
Please enable JavaScript to view this content.