Indianapolis-based Peerless Pump has seen its products installed in some of the city's biggest recent construction
projects—the airport terminal, the Conrad Indianapolis, the downtown Marriott.
Company President Andrew
Warrington also has his eye on Brazil, which will put up some high-value buildings for the 2016 Olympics. Overseas sales are
a major emphasis for Peerless, which makes highly engineered pumps for fire suppression, factories and waterworks.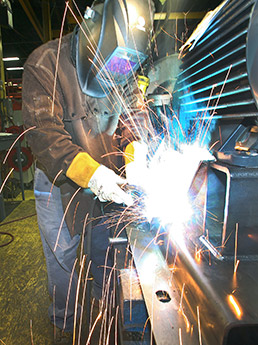 Martin DeLaRosa welds two pieces of metal next to one of the pumps at Peerless Pump Inc., which is growing its exports.
(IBJ Photo/ Perry Reichanadter)
After five years of foreign investment, Warrington said, exports account for about
a third of the company's $120 million in revenue, thus about a third of its local payroll of 300. Despite a drop last
year with the recession, he expects continued growth in exports.
"If they only doubled in the next five
years, I'd probably be very disappointed," he said.
President Obama's administration wants
to help rebuild the U.S. economy by putting more companies on Peerless' trajectory. Obama announced in his State of
the Union address the goal of doubling the nation's exports in five years and creating 2 million jobs in the process.
Although economists call Obama's goals lofty, or downright unrealistic, many of them welcome the spotlight
on exports.
When it comes to creating jobs, pushing exports is a more sustainable effort than the economic-stimulus
package, said Tim Slaper, director of economic analysis at the Indiana Business Research Center at Indiana University.
Obama's target of 2 million jobs "sounds fairly lofty," he said. At the same time, he asked, "What
state is going to have five years of shovel-ready projects?"
Indiana exports began a period of steady
increase in 2002 and reached $26.5 billion in 2008. Exports also grew as a share of the state's economic output in the
past decade, hitting 10.8 percent in 2007. Data for 2009 is not yet available, but Hoosier exports were expected to fall.
Transportation equipment, chemicals and industrial machinery drive exports from Indiana. That's not surprising,
considering some of the biggest exporters are diesel-engine maker Cummins Inc. and Eli Lilly and Co.
The nation's
roster of exporting companies is relatively small. In a recent speech unveiling some details of the Obama initiative, Commerce
Secretary Gary Locke pointed out that less than 1 percent of 30 million U.S. firms engage in exporting.
Slaper
estimated that the portion of Hoosier companies is around 4.5 percent.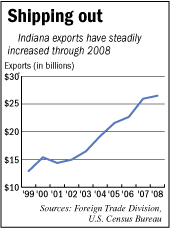 Those statistics can be misleading because
the bulk of the nation's economy revolves around service. In other words, dry cleaners and financial advisers are in
no position to reduce the trade deficit.
One critic of Obama's plan, IU economics professor emeritus Larry
Davidson, resents the implication that American companies aren't trying to get in the game.
"Exports
and trade are incredibly complicated business decisions, tough business decisions," he said. "It's not that
our companies aren't trying. With markets declining in so many places around the world, it's even tougher to make
the sale."
The Obama export initiative so far has emphasized assistance for small and midsize companies—firms
that might feel least prepared to do business internationally.
Olaf Tessarzyk, managing partner and president
of Indianapolis-based ZPS America LLC, is undaunted by the challenges.
He started ZPS, which sells machine tools
throughout North America and South America, two years ago. The firm now has 15 employees and $5 million in annual revenue.
Many of his customers are parts factories in Mexico, and about one-quarter of sales now come from outside the United States.
Tessarzyk has hit obstacles along the way, including tightened security at the U.S.-Mexico border that has caused
weeks-long delays in getting shipments to customers. He said he thinks government can help firms like his by removing various
bureaucratic obstacles.
But Tessarzyk said the real fuel for export growth is investment.
"The
increase will be affected by us adding the staff we need to add," he said.
To make a splash in exports,
Tessarzyk said the United States should follow the example of his native Germany, the world's No. 2 exporter behind
China. He said the country has wisely avoided protectionist policies and emphasized high-value manufacturing.
"First, you've got to create the goods. It's got to be globally competitive," Tessarzyk said. "If
the government will put something into that, we will have exports—because we have good people."
Slaper
said industries that are growing in Indiana—such as life sciences, medical equipment and alternative vehicles—all
eventually will add to exports.
"It's still going to take a good long while for all that stuff to
get in the pipeline," Slaper said. "It's not something that's going to be a quick hit."
The main reason large companies have dominated overseas trade is the expense. Peerless, for example, did not become
a serious exporter until it was acquired by a multibillion-dollar Danish company, Grundfos, in 2007, Warrington said.
Then Peerless took advantage of its new parent company's existing global network.
"We were
a relatively small business before, and now we have the capability to do our exports directly," he said.
Significant growth in exports is most likely to come from large domestic or multinational companies that already have overseas
business, said Gary Hufbauer, a senior fellow at the Peterson Institute for International Economics, a pro-free-trade think
tank in Washington, D.C., that advised the Obama administration on its export initiative.
That's why he
hopes Obama abandons his second trade-related promise—to tax companies that ship jobs to foreign countries.
"The facts of the matter are that these big, multinational corporations are responsible for one-half to one-third
of U.S. exports," Hufbauer said. "Investing abroad is an assist for exports."
Such a move might
play well politically in states that have seen lots of manufacturing jobs disappear. But Hufbauer said, "Keep it in
the campaign oratory."
Manufacturing accounts for more than 15 percent of Hoosier jobs, but the number
has been on the wane for decades. As of December, the sector had 441,300 jobs, down 10.8 percent from the prior year.
Hufbauer thinks that, with the right policy changes, exports could lead a manufacturing recovery.
"We
could have a manufacturing boom in this country, which would surprise everybody," he said.•
Please enable JavaScript to view this content.