Hamilton County is poised to become the demographic all-star of the decade.
Its 269,785 residents
make up the fastest-growing, most educated and wealthiest county in the state, according to estimates
from the Indiana Business Research Center.
Matt Kinghorn, economic analyst at the IBRC,
believes the decennial census, which begins in March, will confirm Hamilton County's place at the
top of the charts.
"It's really unrivaled in Indiana as far as population growth
in the past 30 years," Kinghorn said.
Projections show Hamilton County keeping up
the rapid growth pace in the next decade and beyond, he said. "It's expected to be the fastest-growing county
in the state for the next 15 to 20 years."
Other counties that ring Indianapolis have grown quickly, but
Kinghorn doubts any of them will have overtaken Hamilton—either in growth, or other measures that make the northern
suburb a magnet for all kinds of business, especially retailers.
Wealth and education go hand-in-hand, and Hamilton
County is a case in point. The portion of adults age 25 and older who have a bachelor's degree was 48.9 percent in the
2000 census.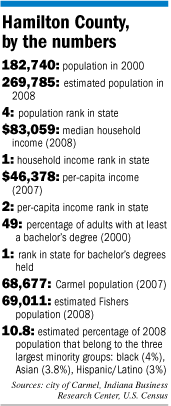 "Hamilton County is even 10 percentage points above Monroe County, where IU is," Kinghorn
said. "That's pretty impressive."
Hamilton is far and away the leader in one key measure of
wealth. The median household income of $83,059 is 25 percent higher than in runner-up Hendricks County.
"That
will be unchallenged in 2010," Kinghorn predicted.
There is one indication, however, that rapid growth
is diluting Hamilton County's wealth. Boone County has surpassed Hamilton County in per-capita, or personal, income
since 2005, according to IBRC estimates.
The difference between Boone and Hamilton counties is their total populations.
An influx of wealthy residents has a bigger impact on per-capita income in a mostly rural county like Boone, where the total
population is 55,027.
Boone County's per-capita income reached $49,720 in 2007. The figure for Hamilton
County was slightly lower, at $46,378.
Anyone who has seen the upscale housing developments in and around Zionsville
won't be surprised by Boone County's surge in affluence.
Retailers followed the money to Michigan
Road, which funnels traffic from both Zionsville and west Carmel. The location proved to be a sweet spot for Mike's
Express Carwash, CEO Bill Dahm said.
The Indianapolis-based chain opened its newest car wash at Michigan Road
and 106th Street last year—in the midst of a severe recession.
"The store we opened a year ago is
off to an unbelievable start," Dahm said. "Within a year, we could see this is going to be a winner."
Dahm said he knows the company was right on the money because Michigan Road has a high degree of loyalty sales:
coupon books and unlimited-wash passes, which cost $39.99 a month.
Although Mike's does well in all kinds
of locations, Dahm said, "All things being equal, you'd rather be in a neighborhood with affluency."
Hoping for growth
Growth creates headaches, but it's what every
community covets. A growing population means a larger share of state and federal tax revenue, more political representation
and more business investment.
That's why Fishers Town Manager Gary Huff is anxiously watching the progress
of an Indiana Senate bill that would change the state's effective date for annexations to align with U.S. Census Bureau
requirements.
Huff said he found out last fall that the U.S. Census bureau might not include Fishers' whopper
annexation in Geist, or seven others that the town completed in 2009, in this year's census.
"It's
a good thing we caught that," he said.
Assuming lawmakers prevent the head-count snafu, Geist will bring
Fishers nearly 6,400 new residents. With each resident comes an estimated $4,000 in federal tax revenue and $43 in state funding,
Huff said.
Until the housing market meltdown, Fishers was a phenomenon all its own. The town's population
grew from 7,508 in 1990 to 37,835 in 2000. Fishers didn't stop there.
A special census in 2007 pegged the
count at 65,382. The town's own estimate for 2010 shows modest growth, including annexations, at 75,222.
Carmel expects to grab the crown of largest municipality. The city estimates its 2010 population at 88,000.
If
the census backs up that number, Carmel will show a 28-percent population increase since its 2007 special census came in at
68,677. (Most all that growth stems from annexation.)
The formal count could produce a small windfall in the
form of new liquor licenses for the city's burgeoning bar and restaurant scene.
The Indiana Alcohol and
Tobacco Commission released a few new licenses in Carmel after the 2007 special census.
"They were sucked
up immediately," said Steve Delaney, a broker who specializes in restaurant locations for Sitehawk.
New
faces
The last decennial census helped cement Carmel's status as the epicenter
of wealth, not just in Hamilton County but Indiana as well.
"Carmel had the fifth-highest per-capita income
in the U.S. and the sixth-highest percentage of adults with a college degree," Mayor James Brainard boasted.
Brainard hopes the next census shows Carmel is becoming a more diverse city.
"To be a true city, you
need all income levels," he said. "We've worked hard to make sure you don't have to be a wealthy person
to live in Carmel."
Brainard also thinks Carmel is "one of the most" ethnically diverse cities
in the state. The Asian population, he predicted, will be 6 percent to 8 percent in the 2010 census.
"That
gives the community a cultural richness that some communities don't have," he said.•
Please enable JavaScript to view this content.