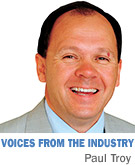 Every city and town in Indiana has properties that have suffered in environmental purgatory. But that is no longer the case.
A new law has potential to literally alter the landscape.
The Indiana Department of Environmental Management now
must allow contaminated properties to be sold or redeveloped without a cleanup—as long as the contamination is contained
and poses no health risk.
These brownfield storefronts and factories needed to be demolished and rebuilt for today's
businesses. They produced no property tax for their host towns, and their tumble-down edifices were a hazard.
Before
the law took effect, real or suspected environmental contamination of soil and groundwater impaired their opportunity for
redevelopment.
Property owners and would-be buyers were reluctant to redevelop the sites out of fear of environmental
contamination, particularly during weak real estate markets.
Strong environmental laws required reports of toxic-chemical
releases and due-diligence investigations of commercial property prior to sale. Properties were banished to environmental
limbo: They could not be redeveloped until they were cleaned up, but the cleanup costs and risks were too expensive for their
market value.
In 2009, the General Assembly passed legislation that dramatically shifted IDEM policy on soil-and-groundwater
cleanup. The agency was directed to consider cleanup plans that specify leaving contamination in the ground as long as it
doesn't threaten health or the environment.
We now have lower-cost options to redevelop property and bring
economic growth and vitality back to local communities. Property owners can close their IDEM property contamination files
and move ahead with a sale or rebuilding on their properties.
Here's a hypothetical scenario that illustrates
how a property can escape from years in purgatory: The owner of a six-acre property removes a large underground heating oil
tank and discovers it had leaked. Heating oil had contaminated the soil and leached into groundwater extending beneath an
adjacent industrial property. The top 12 feet of soil is clean, there are no drinking water wells, and both properties are
served by municipal water.
Previously, the owner of the leaking tank would have had to excavate all contaminated
soil and clean the groundwater, if possible.
Under the new law, the tank owner could develop a plan to prevent
long-term exposure to the contaminated soil (already safely 12 feet underground) and agree to monitor groundwater.
Historically, IDEM and U.S. EPA regulators favored removal—regardless of cost and practicality. When the process worked,
property owners hired environmental engineers to excavate dirty soil and treat dirty groundwater.
The process was
complicated by inflexible regulatory oversight that required each step in the cleanup process be repeated until approved.
As environmental science matured during the 40 years since the first Earth Day, technologies emerged to investigate
contamination, assess its toxicology, and clean soil and groundwater.
With improving sampling and laboratory methods
came environmental risk assessments to answer the question of how much contamination can be safely left behind.
The
new law requires IDEM to consider plans to manage contamination rather than removing it, and to investigate the nature and
extent of contamination. The law also allows property owners, or their consultants, to establish controls to prevent exposure.
The result of this law and regulatory policy change is that, if the contamination doesn't present a threat to
health or the environment, then the property owner can file a plan to manage the risk, and IDEM will not require the contamination
to be removed.
The biggest benefit of this change? It just might be a philosophical policy shift by regulators
whereby the actual risk posed by contamination is evaluated and addressed cost-effectively.
In addition, human
health and the environment will benefit through the government's encouraging cleanup where needed, and helping property
owners demolish and rebuild. Communities also will benefit by reusing these properties that have been held in environmental
purgatory.•
——–
Troy owns Troy Risk Inc., an environmental consulting firm. Views expressed
here are the writer's.
Please enable JavaScript to view this content.