Wrecking crews have demolished a boarded-up relic of the days when what is now Fall Creek Place was known for drive-by shootings and not the gourmet grocer Goose The Market.
The former juvenile detention center along Delaware Street between 25th Street and Fall Creek Parkway had been vacant at least 15 years, and was crumbling. King Park Area Development Corp., which owns the property, is preparing to approach developers interested in submitting plans for the 1.8-acre site, the equivalent of about eight residential lots.
The not-for-profit group bought the property from the Marion County Treasurer's Office for about $75,000 in 2008, and is using grants to fund the demolition and search for a new use. It plans to recycle about 80 percent of the building materials.
A few replacement possibilities include park space, a small library, single-family residential or some combination of residential and retail, said Janine Betsey, King Park's executive director. The price of such a project could vary widely.
She said the group's board plans to consult with neighbors and issue a formal request for proposals in April.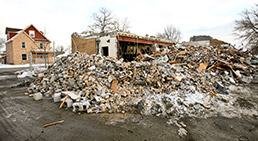 The King Park Area Development Corp. plans to seek proposals to redevelop the former home of a youth detention facility along Delaware Street. (IBJ Photo/ Perry Reichanadter)
King Park also is developing a $2 million retail project at the northeast corner of 22nd and Delaware streets, potentially anchored by Ace Hardware, that would serve as an attractive southern gateway to Fall Creek Place.
The project is being designed by locally based A2SO4 Architecture, which also worked on the iconic live-work Douglas Pointe Lofts a few blocks north. Tenants at the nine-unit project include Goose The Market, Salon Orange Moon and marketing-and-advertising upstart TrendyMinds Inc.
The northern end of Fall Creek Place would get a boost from redevelopment of the former juvenile detention center. The 1960s brick building had been a prominent reminder of the neighborhood's past, when high crime led to an unflattering nickname.
"The building was a legacy from the Dodge City days," said Brad Beaubian, who lives about a block to the south and heads the Ball State University College of Architecture and Planning in Indianapolis. "It never did fit in the neighborhood. It's good to see it gone."
A group of Ball State architecture students asked to envision plans for the site suggested a mixed-use, mid-rise project with apartments or condos and a grocery store on the first floor, Beaubian said.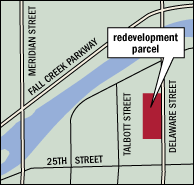 But the exercise was more about architecture and design than urban planning, he said. The site doesn't have the traffic flow or parking capacity for such an intense use.
Beaubian would prefer townhouses or single-family homes so the development won't dilute existing commercial nodes like Douglas Pointe or the project planned for 22nd and Delaware streets.
Trevor Yager, who owns TrendyMinds, prefers some mix of commercial and residential. He'd like to see the project expanded to include properties owned by State Discount Liquors at the northwest corner of 25th and Delaware streets. Together, the parcels take up almost an entire block, one of the largest spaces available in Fall Creek Place.
Yager says concerns about parking are overblown: It's a city, so people should be willing to walk a block now and then—especially now that the "creepy, shadow-casting" former juvenile detention center is gone.
"I think it's great," Yager said. "It's an opportunity for more people to start new businesses or move to the neighborhood."•
Please enable JavaScript to view this content.