The largest tax credit deal in state history will fund the rehabilitation of 538 apartments in four complexes owned by the Indianapolis Housing Agency.

City Real Estate Advisors Inc., a unit of locally based City Securities, raised $23.5 million in tax-credit equity. It placed the credits with three institutional investors in a deal closed Feb. 22. Sales of state-approved tax credits typically raise $2 million to $8 million per deal, said Jeffrey A. Whiting, CEO of City Real Estate Advisors.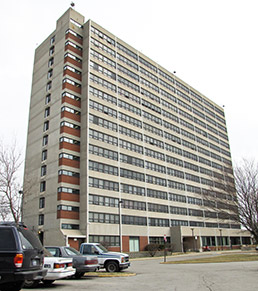 The city's housing agency is planning a rehab and expansion of Lugar Tower. (IBJ Photo/ Mason King)
Those amounts are trending larger following a 2008 change in how housing agencies can allocate credits, Whiting said. In fact, the record set by the recent sale could fall yet this year.

The local housing agency will learn later this month if the state will authorize the placement of additional credits that could raise another $60 million. That money would fund renovations, replacements or additions to four other properties, including Lugar Tower, at 901 Fort Wayne Ave., and the Caravelle Commons complex near 16th Street and College Avenue. Caravelle's 65 units would be demolished and replaced with 155 units of new construction.

IBJ.COM EXTRA
Click here
to read about the potential next wave of projects.
The proceeds of the recent deal are being packaged with approximately $6 million in stimulus funds awarded last year by the federal government to completely overhaul the following complexes, all of which were built in the 1960s and early 1970s:

• Twin Hills, 2210 E. 36th St., a collection of 64 mostly two- and three-bedroom apartments in 18 two-story buildings;

• Blackburn Terrace, 3091 Baltimore Ave., a 243-unit complex of mostly two- and three-bedroom units in 60 low-rise buildings;

• Laurelwood Apartments, 3340 Teakwood Drive, a 135-unit property in 39 two-story buildings; and

• Rowney Terrace, 1353 S. Riley Ave., with 96 units spread over 32 buildings.

Bruce Baird, the housing agency's director of strategic planning and development, said limited work began last July using the stimulus money. Proceeds from the sale of the tax credits allows contractors to proceed with a total makeover of the four properties, which will receive new mechanical systems and interiors.

A year ago, tax credits were a tough sell, but "investors seem to be tiptoeing back into the market," Baird said. The housing agency got 67 cents on the dollar in the recent round of sales and is shooting for 73 cents if it gets the green light from the state to place more tax credits.

The work planned if that deal is approved would result in another 766 new or rehabbed public housing units in the city.

"No one has upgraded a portfolio of public housing to this extent," Baird said.

Among those benefiting are local construction firms that might otherwise be struggling to find work in an economy where big construction projects are in short supply.

"I wouldn't want to have to support a large, fixed-overhead company selling single-family [homes]," said Jim Thomas, whose firms are involved in both development and construction. His construction firm, CRG Residential, specializes in large-scale apartment rehabs and has the contract, along with Powers & Sons Construction, to overhaul the Twin Hills/Blackburn Terrace complexes.

Thomas and partners Chris Reid and Brian Cranor also operate the development firm Hearthview Residential, whose projects include Meridian Arch at St. Clair and Meridian streets and Lockerbie Park at Park Avenue and Michigan Street. But the construction firm is where the action is now, Thomas said. The company does, on average, $75 million in business a year in 20 states east of the Mississippi River.

The contract to rehab the housing agency's Laurelwood/Rowney complexes went to Turner Construction Co., in partnership with Davis & Associates Inc. Design work for that project was handled by architecture firm A2SO4. Domain Architecture is the architect for the Twin Hills/Blackburn Terrace projects.•