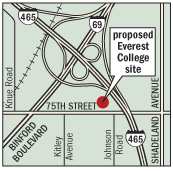 Another for-profit college is eyeing an expansion into the Indianapolis area.
The publicly traded Corinthian Colleges Inc., based in Santa Ana, Calif., plans to take 40,000 square feet in the Heritage
Park office park southeast of interstates 465 and 69.
The new campus, which will operate as Everest College, will be the second Indiana campus for Corinthian, which has a facility
in Merrillville.
Corinthian, founded in 1995, is one of the nation's largest for-profit college operators, with more than 105,000 students
at 110 campuses in the United States and Canada.
Corinthian has asked the city for a variance to allow the campus to operate with 442 parking spaces, fewer than are required
by planning guidelines.
The company has said it will use about 20,000 square feet of its space for classrooms, and the other half for administrative
functions. It promised no more than 400 students and faculty would be at the campus at 6666 E. 75th St. at any given time.
Please enable JavaScript to view this content.