A civilian division of the U.S. Marine Corps has agreed to move its operation from Missouri and take almost 75,000 square feet in downtown's M&I Plaza.

The 10-year, $20 million deal for four full floors of the 28-story building will push the city's sixth-largest office tower from a woeful 30-percent occupancy rate to about 50 percent.

The Marine Corps Technology Services Organization plans to move from Kansas City, Mo., in two phases starting this summer and finishing up in January 2011. The operation, which has a staff of 247, chose from five possible sites as part of a U.S. Defense Base Closure and Realignment Commission decision.


The move gives the building's owner, White Plains, N.Y.-based True North Management Group, some momentum as it pursues several smaller deals for the 21-year-old property.

"This is a great deal for the building—and great for downtown," said Jon Owens, a principal in the local office of Cassidy Turley who represented the building owner in the transaction.

The deal is particularly notable because it involves a new-to-market tenant bringing jobs to downtown and helps stabilize one of the city's most troubled buildings, said Thomas E. Hadley, executive vice president for office leasing at locally based Summit Realty Group.

More deals like it would give a much-needed boost to the ailing downtown office market. Summit reported a fourth-quarter 2009 vacancy rate of 19.7 percent for the central business district, up 6.2 percentage points over a year earlier. Overall office vacancy for the Indianapolis area stood at 22 percent.

Even with the Marine Corps deal, the 673,000-square-foot M&I Plaza has more than 300,000 vacant square feet, including the top six floors of the reflective glass and red-granite building. The biggest blow came in late 2008 when the building's largest tenant, law firm Bose McKinney & Evans, moved across the street to Chase Tower.

Efforts to refill the space had been slowed until recently by two ownership changes in rapid succession. Mezzanine lender CapitalSource Inc. of Maryland took control of the building from New York-based Crown Green Associates LLC in late 2008. True North took over from CapitalSource in late 2009. Both actions followed defaults on loans.

"[The deal] sends a message to the market that they're doing deals, are stable and are looking to rent more space," Hadley said. "That's healthy for the space to be absorbed, and brings more people downtown."

BRAC voted in 2005 to close the Kansas City operation. The move will present local hiring opportunities, as some employees will be retiring and others will not make the move, said Philip Westcott, a BRAC liaison for the Marine Corps.

"We're encouraging as many as possible to move to Indianapolis," he said. "For those who don't move, obviously the positions and function have to move."

The division, which will occupy the 19th through 22nd floors, handles information technology, payroll, personnel and accounting services for the Marine Corps.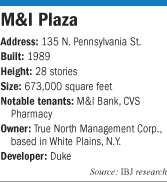 Part of the rationale for choosing Indianapolis is that the city already serves as headquarters for the Defense Finance and Accounting Service at the 1-million-square-foot Maj. Gen. Emmett J. Bean Federal Center along East 56th Street at the former Fort Benjamin Harrison. That facility employs about 4,000 people.

The deal is for 74,762 rentable square feet and 188 parking spaces for annual rent payments of $2.2 million, said David Wilkinson, a spokesman for the General Services Administration.

The cost of roughly $29 per square foot includes the amortized cost of building out the space and reserving off-site parking, Owens said. The base rent is near the building average of about $18 per square foot.

Previous owner Crown Green Associates had tried for more than a year to sell the tower for $60 million before it lost control of the property.

The building at 135 N. Pennsylvania St. was valued most recently for tax purposes at $26.7 million, down from a prior assessment of $77.9 million. The building sold for more than $50 million in 1997 and traded again for $38 million in 2002, when it was 70-percent occupied.•