The first rule of sales is to start with a great product. After that, it's all about hustle. Indy Partnership CEO Ron Gifford thinks central Indiana has a surplus of both.

That's why he's confident the 10-county region can double its economic development in 2010, despite the lingering effects of the Great Recession.

Indy Partnership last year closed 11 business expansion or attraction deals in which it competed against other states, netting 2,950 new jobs in the process. This year, Gifford aims to clinch 22 or more.

Gifford.
A 100-percent increase is a stretch goal, Gifford said, because, like all salesmen, he doesn't control the buyer's decision. Gifford can only direct how many calls his 12 employees make, how smartly he spends his $2 million budget, and how quickly Indy Partnership attempts to pounce on opportunities.

You can only win if you compete. Last year, Indy Partnership contended for 128 company projects to yield those 11 deals. In 2010, Gifford wants to bid on 160 opportunities.

"What we will try to do, and what we will work even harder to do in 2010, is to try to positively impact everything we can on the front end—generating more leads, getting more companies looking at the region, being as creative and aggressive as possible in meeting their information needs," Gifford said.

"If we make sure we're more responsive than any other organization like ours, we're going to increase the pipeline and hopefully help our partners close a lot more deals."

Private company donations account for 90 percent of Indy Partnership's resources. The rest are contributions from the 10 counties in the Indianapolis area. Gifford pointed out his $2 million budget is between one-half and one-third what his competitors in Charlotte, N.C.; Louisville; and St. Louis boast.

Brokering business expansions is more cutthroat than ever in a sluggish economy, and Indiana's neighbors aren't standing still. The March cover story of Site Selection magazine, an economic development trade publication, ranked Indiana 10th among the 50 states in number of private-sector projects in 2009. That's the good news. The bad: Illinois was No. 8, Michigan was No. 3, and Ohio snagged the No. 1 bragging rights for the fourth consecutive year.

Gifford said he tries not to put too much stock in those sorts of rankings.

"We very much try not to be the rooster taking credit for the sunrise," Gifford said. "Candidly, folks in other places run up big numbers, say we closed a bazillion deals they had nothing to do with. Our view is to look at things where we were engaged and had a relevant role, and build off of that."

Indy Partnership has some concrete statistics bolstering Gifford's confidence. It is working with 80 companies that have requested information about the Indianapolis area and its available real estate. It has another 47 projects on hold involving companies that explored the region, but decided to delay a decision.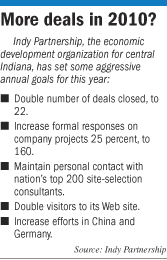 More important, business is picking up. In the first two months of 2010, Indy Partnership began working on 14 projects from companies seriously considering expanding here. That's nearly double the new projects it picked up in the first 60 days of 2009.

Former Indiana Secretary of Commerce Nathan Feltman, now a partner with Baker & Daniels LLP, said it's realistic for Indy Partnership to aim high this year, despite the sluggish economy.

In fact, he said, tough times actually create new prospects, as companies seek to cut expenses and consolidate their operations. Those are deals where Indiana, with its central geographic location and low costs, competes well.

Responsiveness is perhaps the most important factor in Gifford's control, Feltman said, and the factor that can set Indy Partnership apart from its competitors in other states. He pointed to the Medco deal three years ago, when the company, after months of consideration, had narrowed its expansion choices to Louisville and Indianapolis.

Indy Partnership reached out to top officials from local life sciences firms, including Eli Lilly and Co.'s Sidney Taurel, to meet with Medco officials and answer their questions. Local economic-development officials also lit a fire under Indiana's pharmacy board, persuading it to quickly grant regulatory approval for a mail-order drug distribution facility to open here.

Kentucky dragged its feet, and lost.

"You have to constantly tell your story in front of decision-makers to stay in the game and ahead," Feltman said. "If nobody knows about it, there won't be a big return."•