Brizzi
Marion County Prosecutor Carl Brizzi paid nothing for a 50-percent stake in an Elkhart office building he acquired in partnership
with a local defense attorney.
Brizzi and Paul Page, an attorney and condo developer, bought the 15,200-square-foot building at 1659 Mishawaka St. in February
2008 through a company called L & BAB LLC. About five months later, the Department of Child Services agreed to lease 13,000
square feet in a 10-year, $2.5 million deal.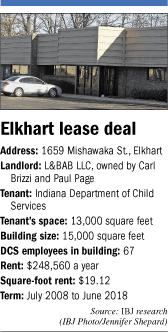 Page, an attorney with locally based Baker Pittman & Page and principal in Page Development,
acknowledged in interviews with IBJ that Brizzi—whom he called an "equal partner" in the deal—did
not contribute cash and isn't named on the loan the pair used to buy the building.
Brizzi has said in disclosure documents that his equity interest in the property is worth $50,000 to $100,000.
The idea of an elected prosecutor teaming with a defense attorney to buy a building without putting any of his own money
or credit at risk gives the appearance of an ethical lapse, said Henry C. Karlson, an Indiana University emeritus professor
of law.
"A prosecutor, like a judge, exercises great discretionary power," Karlson said. "If this man's clients
are being prosecuted in Marion County, in my opinion, there is an inherent conflict of interest because of the business relationship.
That conflict would disqualify not just Carl Brizzi, but everyone in his office."
Records show Page has represented clients in at least 12 criminal cases in Marion County, for traffic-related offenses, since
he partnered with Brizzi. Page said the decision to co-invest had nothing to do with Brizzi's elected position.
Brizzi, a Republican who has opted not to seek re-election after his second term expires at the end of 2010, said in a statement
that the Prosecutor's Office has checks and balances in place to avoid "even the appearance of favoritism
influenced by either campaign contributions or outside business dealings."
"Campaign finance laws and the rules governing the conduct of prosecutors allow for outside business ventures,"
Brizzi wrote. "This real estate investment was no different. It was done ethically and by the book."
Rainmaker
Page said Brizzi earned his stake in the Elkhart building by bringing him an attractive investment opportunity.
He said Brizzi and John Bales, a local real estate broker and Brizzi business partner, approached him about the deal, which
eventually paid Bales about $100,000 in commission.
No one would say how the building owners arrived at the name L & BAB.
"People bring things to the table—it doesn't have to be money," Page said. "If someone has
an idea, the rainmaker is entitled to it. If I bring someone to the law firm, I get paid because I make the rain. Bales really
put the deal together, but those two guys were friends so I'm assuming that's how it all developed. I'm
the investor, I get the loan."
Page would not say how much is owed on the building's loan. Records show the building, a former call center, was most
recently assessed for tax purposes at $906,000.
Page said annual lease payments of more than $248,000 from the Department of Child Services cover the loan payments and building
expenses. But if that changes?
"I guess I can sue him," he said, referring to Brizzi. "If it falls south and defaults, he's going
to be in it to me for 50 percent. If I've got to pay the bank $10, he owes me $5. It's not like he's not
at risk."
Page said Brizzi has not partnered on any of his other deals. Those include the Villagio at Page Pointe condo project in
Indianapolis and a handful of condo buildings in Florida.
"This is a one-shot deal," he said. "I don't know them that well."
Bales, a principal at the locally based real estate brokerage Venture Cos., said in an e-mail that he dealt only with Page
on the Elkhart deal, and "never saw a document" with Brizzi's name on it.
"I have never been part of the ownership," Bales wrote of the Elkhart property. "I do not and have never
had an ownership interest in any property leased by the state."
Bales, who has the exclusive contract to represent state agencies looking for office space, is one of Brizzi's largest
campaign donors and has partnered with the prosecutor on a handful of real estate deals, including a bank branch in Broad
Ripple. They tried to raise $30 million in 2007 for a fund to buy distressed residential and commercial projects in Florida
and Indiana, but the plan fizzled because of insufficient interest from investors.
Brizzi was preparing to take over as prosecutor in late 2002 when he met Bales, who had handled the department's lease
of 71,000 square feet in the 251 East Ohio building. As the pair began partnering on private real estate deals, Brizzi continued
to direct more lucrative work to Bales, including three amendments to the original Prosecutor's Office lease.
Asking questions
The FBI has been asking questions about Brizzi's real estate and other business dealings while in office.
Those include ventures with another friend and prolific Republican donor, Timothy Durham, the target of a securities fraud
investigation. Durham was Brizzi's finance chairman for his 2006 re-election campaign.
Brizzi, 41, also has faced criticism over $29,000 in campaign contributions he accepted from businessman Harrison Epperly
at the same time an attorney for Epperly's daughter was seeking her early release from prison. She had been sentenced
to 110 years in 1991 in a murder-for-hire scheme.
Brizzi's office supported the sentence modification, and Paula Epperly Willoughby was freed in July 2009. Brizzi later
returned the contributions and said they were not a factor in his decision.
Brizzi, who also owns a 10-percent stake in the restaurant Harry & Izzy's, has managed to build an impressive real
estate portfolio without much money or extensive assets. He earns $125,000 a year as prosecutor. A 2009 divorce settlement
shows Brizzi and his wife had three residences, each with first and second mortgages. He pays about $1,000 a month in child
support for his four children.
The Indiana State Bar Association decided about 15 years ago that prosecutors and criminal defense attorneys are allowed
to own office buildings together, said Stephen Johnson, executive director of the Indiana Prosecuting Attorneys Council.
"As long as it's strictly a real estate deal," Johnson said. "If one was the tenant and the other
owed rent to the other, that would create a problem."
Karlson isn't convinced Brizzi's Elkhart deal can even be considered a real estate investment, which typically
would require some sort of economic contribution.
"It might appear to some that, in effect, the defense counsel—through this transaction—is funneling money
to the prosecutor in the form of a bribe," Karlson said. "I'm not saying it's happening, but it is
an appearance of evil."•
Please enable JavaScript to view this content.