The owner of Sherman Park has filed for Chapter 11 bankruptcy protection as it seeks new funding to stabilize the 49-acre
business complex.
A group led by Bloomington investor Peter Dvorak has lined up $1 million in financing in bankruptcy court to spend on cosmetic
improvements and recruitment of new tenants and potential buyers of stand-alone buildings on the property northwest of Sherman
Drive and East Michigan Street. The plans also call for a rebranding of the 13-building campus as Circle City Commerce Park.
Dvorak bought the former Thomson Consumer Electronics/RCA plant out of receivership in 2008, and had hoped to spend more
than $20 million to renovate and lease the largely vacant property. But financing for the improvements fell through, and a
lack of new tenants meant rent payments were not sufficient to cover debt service and property taxes, Dvorak said.
The property owner filed for bankruptcy reorganization March 17 with the blessing of its largest lender, Fairport, N.Y.-based
Pramco LLC, in part to keep some delinquent parcels out of a county tax sale.
The properties have secured debt of $5 million, including $3.5 million owed to Pramco, and another $2 million to $3 million
in unsecured debt. Dvorak said he is not seeking principal reductions and hopes to repay creditors in full in five years.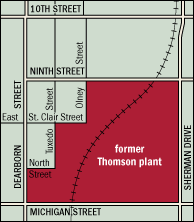 The rationale for Chapter 11 is to extend maturity dates, lower interest rates and skip monthly payments
until the property is stabilized.
"We don't anticipate anyone having to take a haircut at this point," Dvorak said. "The treasurer
will get paid, but they might have to be paid over five years. We're going to continue to operate the property, business
as usual. We will continue to lease it, to maintain it."
Local industrial brokers are skeptical the current owners can make it work, though, particularly since several of the property's
remaining tenants are looking to move. The brokers said $1 million won't even be enough to fix the leaky roof and broken
windows.
Tony Hupp, an industrial broker with locally based Summit Realty Group who lists similar properties nearby, said tenants
are looking elsewhere because they want stability.
"Is it salvageable? Absolutely," Hupp said. "With a little cash infusion, and the right marketing plan,
they can backfill that space. But right now in this market, the future in that property is uncertain."
Dvorak said the property is about 50-percent leased, and active negotiations could fill another 10 percent. Once the management
team can secure a tenant for the 175,000-square-foot main building—RCA's former headquarters—it will spend
another $8 million on renovations, pushing the project investment above $20 million.
Dvorak, who has faced foreclosures and liens on projects in several states, blamed his largest lender, National City, for
its decision to cut off construction lines of credit and call notes early.
According to Dvorak, a separate lender he would not name pulled a loan he had planned to use for redevelopment of Sherman
Park.
The property originally was developed in the 1920s as the headquarters for RCA, which was acquired by General Electric Co.
in 1986. A year later, GE sold the former RCA to Thomson Consumer Electronics, now called Thomson Multimedia.
At its peak in the 1950s, the plant employed 8,200 people, many of them producing TV components. But Thomson, which owns
the RCA brand, sent those jobs to Mexico over the years. In 1994, the company moved its headquarters from the Indianapolis
plant to Carmel.
Before Dvorak took over, Sherman Park had been in receivership since a bankruptcy auction in December 2006 failed to produce
a buyer.
This time, bankruptcy should be good news for the property, Dvorak said.
"For the tenants and the neighbors, it's frankly a positive thing because it will give us access to the capital
we've needed all along to move the property in the right direction," Dvorak said. "I still believe in the
project. It'll just take a little longer."•
Please enable JavaScript to view this content.