The goal of any host city of a major sporting event is simple.

Rake in as much cash as possible during the days the event is in town and maximize future economic potential by boosting the city's image among everyone who watches on television.

With the college basketball Final Four looming as a dress rehearsal of sorts for the 2012 Super Bowl, there's a lot at stake as hoops fans arrive and the country settles in to see who wins.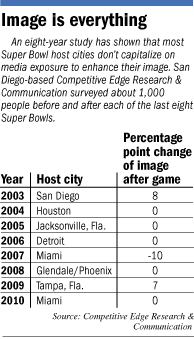 "You don't get into this game simply because you love sports," said John Nienstedt, president of San Diego-based Competitive Edge Research and Communication. "This is a multibillion-dollar business, and lots of cities peg their hopes for downtown and citywide development on such events."

While the goal is simple, the execution is not, said Nienstedt, whose firm has studied the impact of the last eight Super Bowls on the host cities' images.

In fact, only two of the last eight Super Bowl hosts have seen a positive image boost, according to Nienstedt. Five saw no impact among the 1,000 people surveyed by his research firm and one—Miami in 2007—took a negative hit.

Indianapolis officials have a keen interest in such studies as the 2012 Super Bowl approaches.

"While affecting media coverage isn't one of our stated goals, it's a byproduct of everything we do," said Dianna Boyce, Indianapolis' Super Bowl 2012 director of communications. "We know that everything media members experience here will be conveyed to their audience and that's vitally important to us."

The city is not entirely new to this rodeo—and neither is Boyce.

As a host of five NCAA men's Final Fours and other national and international sporting events, local officials have learned to maximize the branding opportunity with live attendees and television viewers.

Boyce, a former aide to Mayor Steve Goldsmith in the 1990s, served as the city's point person for Final Fours during that term as well as serving on the local organizing committee for Final Fours and Big Ten tournaments.

But nothing compares to the opportunity the city will have during the 2012 Super Bowl. If the city plays its cards right, the $275 million in visitor spending could be just the beginning.

The 2010 Super Bowl attracted nearly 106 million U.S. TV viewers—the largest audience in TV's 80-year history.

"There's no doubt, the Super Bowl exposure has the muscle to influence people's opinion in a positive way about a host city," Nienstedt said. "It just doesn't get flexed as much as it should."

Lessons learned from Final Four

The sixth Final Four to be played here April 3 and 5 will deliver its own economic impact—about $50 million in visitor spending—but also will serve as a key warm-up for the 2012 Super Bowl.

This year's Final Four will be the most widely watched sporting event played to date in the 20-month-old Lucas Oil Stadium, and the 2012 Super Bowl local organizing committee hopes to take away some important strategies.

One key to success is winning over television broadcasters.

Nienstedt noted that the two host Super Bowl cities that got big bounces—San Diego saw an 8-percentage-point boost in 2003 and Tampa saw a 7-percentage-point boost in 2009—got lots of kudos from game-day TV announcers.

"Al Michaels and John Madden were effusive in their praise of San Diego in 2003," Nienstedt said.

Also aiding San Diego and Tampa, he added, were nice scenery shots of the city during breaks in the action and heading into and coming back from commercial breaks.

Conversely, Nienstedt noted, Miami got mentioned only four times during the broadcast of this year's Super Bowl featuring the Indianapolis Colts and New Orleans Saints.

"There was only one nice scenery shot of Miami during the entire game," Nienstedt said. "There were more shots of New Orleans during the game. It was horrible for Miami."

Miami appears to be a two-time loser. In 2007, another Super Bowl that featured the Colts, Miami's image was 10 percentage points lower among respondents in Competitive Edge's survey after it hosted the game.

"People went in thinking sun and beaches, and saw a deluge of rain," Nienstedt said. "Some things you can't control, but Miami didn't manage the situation very effectively."

What can a host city do?

Nienstedt said host cities can learn from the way Vancouver handled this year's Winter Olympics.

"The weather there wasn't great for winter sports, but by running ads themselves during the event highlighting the positives of the region, and by presenting themselves as a welcoming host, that city really came off nicely," said Nienstedt, whose firm is completing a study on the Olympics.

Nienstedt thinks TV exposure trumps the experience of live attendees.

"What we're looking at is the image of a host city on a macro level, and [106] million watching the Super Bowl on TV easily trumps the 100,000 or 150,000 coming to town for the game," he said.

Indianapolis officials said they can't afford to buy a TV spot during either the Final Four or Super Bowl. Final Four commercials carry a six-figure price tag and Super Bowl spots start at $2.6 million. But the city might have an ace in the hole—at least for Final Four coverage.

"Jim Nance absolutely loves Indianapolis," said Tom Cochrun, a retired local TV news anchor, producer and consultant. "He talks about the beauty of the city, the great shrimp cocktail he had at St. Elmo's, and on and on. You can't buy that kind of exposure."

Nance is the longtime CBS announcer who will be in Indianapolis again for this Final Four.

"It's no secret—the network's love for this city along with other media is one big reason the Final Four has come back to Indianapolis again and again," Cochrun said. "That type of exposure doesn't cost money, but neither is it given freely. It's hard-earned."

Avoiding disaster

But what if there is no love? Without a carefully plotted strategy, a host city could easily end up in the same situation as Miami.

"It costs millions and millions of dollars and lots of man-hours to host one of these events," Nienstedt said. "It's foolish not to maximize a return through positive exposure."

The Super Bowl 2012 host committee members are looking for the kind of exposure Nance brings Indianapolis during the Final Four. And they aren't just hoping it will happen.

Already, the Indianapolis Convention and Visitors Association, along with the Indiana Sports Corp. and Indianapolis Downtown Inc., have mapped out a plan. That started at this year's Super Bowl, meeting with media representatives and handing out a 20-page city directory.

"At next year's Super Bowl in Dallas, we'll hand out a directory two or three times that size with details on specific attractions, restaurants and other city highlights," said ICVA CEO Don Welsh. "You have to start this work well in advance and continue it right through game day."

The ICVA is also charged with providing locations, such as Monument Circle, the Central Canal, the Artsgarden and Victory Field, for TV cutaway shots used by broadcasters during the Final Four and Super Bowl. They'll also help the networks find the best locations to shoot interviews outside and inside Lucas Oil Stadium.

"We certainly don't direct them or tell them what to do; we just give them a number of possibilities," Welsh said.

An unaided broadcast crew can easily find itself in places city officials would rather they not show. For example, the NFL Network shot part of its outdoor footage during this year's NFL Combine from the southwest side of the stadium, showing an industrial area and vacant buildings.

"A lot of hard work can be completely undone by the least bit of inattention by organizers," Cochrun said.

Almost everyone involved agreed the little things will count the most when 4,600 journalists from 630 U.S. media outlets descend on Indianapolis for Super Bowl 2012.

"The week of the Super Bowl, the whole city is under the microscope," said Frank Supovitz, NFL's senior vice president of special events. "But Indianapolis, in terms of Super Bowl preparation, is way ahead of the game. I expect that preparation to shine through during the 2012 Super Bowl."•