The Indianapolis Airport Authority is poised to pull out all the stops to maximize revenue in the face of declining travel.

Imagine attending a farmer's market—not along a country road, but atop the roof of the parking garage at Indianapolis International Airport.

"How do we reinvent ourselves?" asks Airport Authority CEO John Clark.
Or, without a plane ticket, being able to walk back to the secured gate area of the airport to shop or to have lunch.

Airport officials might even rent out their expertise to other airports or to businesses.

These are among a myriad of ideas—revenue-generating ones—being considered by airport staff as part of a five-year strategy to make the airport less financially dependent on the whims of passenger traffic.

It's a far cry from airport planning over the last several years. That period was dominated by big capital projects, whether taxiways, runways or the culmination of decades of planning in the form of the $1 billion midfield terminal that opened in 2008.

Since then, passenger travel has ebbed, falling more than 8 percent here. At the same time, the airport had to begin paying some $40 million a year toward debt on the palatial facility. Cutting staff and utility bills goes only so far.

"How do we reinvent ourselves?" John Clark, CEO of the airport authority, said, describing the essence of the authority's 2010-2015 business plan.

It's received scant attention beyond the airport's executive offices perched above the terminal's Civic Plaza. Rather, the buzz lately has been the signing of a $1.3 million contract with a consulting firm to study how best to redevelop more than 80,000 acres of airport property, including the old terminal and its vast parking areas, to the northeast, and private land surrounding it.

The plan suggests potential uses for some of that property as well as ways to squeeze more revenue from the new terminal.

While the land-use study won't be completed until later this year, the authority's strategy hints at some potential non-airline revenue. Ideas include a gas station/convenience store, a grocery, an immediate-care health clinic, a "restaurant/casino" and fitness facilities.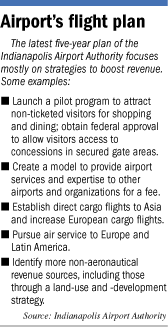 All are things area residents—not just passengers—might use, Clark said.

Community destination

Since arriving last year, Clark, the former head of Jacksonville, Fla.'s aviation authority, has spoken often about making the airport a destination for non-passengers.

Late last year, coinciding with the holidays, the airport hosted a number of small concerts and other events on a test basis. They weren't necessarily moneymakers, but "we got good feedback," Clark said.

In that vein, the strategy contemplates more ambitious possibilities, including concerts atop the 500,000-square-foot roof of the airport's parking garage—a roof space larger than the flight decks of two modern aircraft carriers.

The garage roof has been closed amid sparse use and to reduce maintenance costs. But it could be ideal for other events, such as car shows, swap meets and seasonal festivals, airport officials say.

"If we create a venue of entertainment, then the shopping becomes a byproduct of it," Clark said.

The more people spend to shop and dine, the more the airport collects in fees from concessionaires.

Even the sanctum sanctorum of airport property—the post-security-gate areas—are being looked at for non-aviation uses. Clark said the authority last year proposed to the Transportation Security Administration a pilot program that would allow visitors without plane tickets to access retail and dining areas in the concourse gate areas.

"That was before the underwear bomber. That was unfortunate," Clark said of the Nigerian passenger who unsuccessfully attempted to ignite an explosive in his underwear on a Detroit-bound flight late last year, sending the TSA into a tizzy of re-evaluating security measures.

Still, Clark said he thinks the TSA might yet warm to the idea as the agency gets its security procedures settled. Only a handful of airports have such pilot programs in place, including Pittsburgh International Airport.

Overnight guests of the Hyatt Regency Hotel at that airport can get a "non-flier" pass to go beyond security for shopping and dining, said JoAnn Jenny, spokeswoman for Pittsburgh International, which built a shopping-mall-like terminal in the early 1990s. Imagine Greenwood Square Mall with shoppers toting carry-ons.

Such pilot programs to get more people to post-security concessions makes sense, said Pauline Armbrust, publisher of Florida-based Airport Revenue News.

She noted that airports, including Indianapolis, placed a greater percentage of their concessions in the secured, gate areas in recent years. That's because since the 2001 terror attacks, passengers arrive earlier to clear more onerous security screening and have more time to kill at the gates. But with air passenger traffic slowing nationwide and the recession, sales have been especially challenging in the gate areas.

The moneymaking ideas in the airport's plan seem endless. Even the new employee parking lot, with its easy access to Interstate 70, is mentioned as a possible venue for special events related to the Indianapolis 500, the Brickyard 400 and other sporting spectacles.

"Consider fee-based hunting, fishing, off-road vehicles and four-wheeling or driver's training courses in designated areas on airport property," states one idea.

Another idea, to offset the cost of operating an airport service that assists passengers with jump-starts and flat tires, suggests the airport secure sponsorships for the service from car dealers or travel clubs.

Selling smarts?

Perhaps the most radical idea involves packaging and selling the airport authority's expertise.

Why, Clark wonders aloud, couldn't the authority sell its expertise to other airports? A handful of major airports already do that, including the Houston Airport System, the entity that runs George Bush Intercontinental and William P. Hobby Airport.

HAS created a separate, not-for-profit entity known as HAS Development Corp., which is involved in the management of airports in Central America, including in Quito, Ecuador.

According to Airport Business magazine, HASDC "borrows" talent from Houston's airport staff. The Houston Airport System pay for that project flows into its airport development fund, "which ultimately should have a positive impact on rates and charges to the airlines."

The HASDC entity is legally structured to protect the city of Houston from liability the venture might incur.

Indianapolis International is a pipsqueak compared with Houston's airport system. But how many airports in recent times have spent more than $1 billion on a major terminal project? Clark asked. "There's a lot of intellectual capital and expertise" here.

Monetizing that expertise needn't be as exotic as running airports in foreign lands. Even airport departments such as maintenance and operations could earn fees by providing building- or vehicle-maintenance services or disabled-aircraft recovery "at rates less than those charged by off-airport service providers," said the plan.

Although the airport authority is a municipal corporation, it is not funded by local taxes. Most of its revenue comes from rents and charges to airlines that use the airport. Revenue from parking and concessionaires is also a big money generator.

New, diversified revenue streams and further expense reductions can't come soon enough as the authority gets down to brass tacks in negotiations with carriers on a new airline agreement.

The present agreement expires at year-end and the authority is at least trying to hold the line on fees and charges airlines must pay as it adjusts to higher debt costs and lower-than-forecasted passenger numbers amid the recession.

The strategy also calls for stepping up marketing efforts to lure passengers from other airports in the region, including Cincinnati and Louisville.

Cincinnati/Northern Kentucky International last year posted the nation's biggest decline in passenger traffic—a 22-percent drop. That was due mostly to No. 1 carrier Delta's de-emphasizing Cincinnati as a hub in favor of the relatively new Detroit airport, which is a hub for newly acquired Northwest Airlines.

"Our theme is, we want to become the airport of choice" in the region, Clark said.•