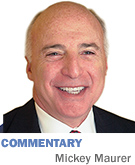 Memo to the state Republican Party: Show me the candidate.
Indiana has little time to recover from the astonishing announcement by U.S. Sen. Evan Bayh that he will not run for re-election.
Next month, the Democratic Central Committee will choose a candidate by secret ballot.
According to pols, the party has coalesced in support of Democratic Rep. Brad Ellsworth, a plausible candidate seasoned with
local and national public service experience. I also note a lunatic, draft-John-Mellencamp movement that would be amusing
had it happened anywhere but Indiana. In response to a report by CNN that the movement had garnered more than 7,000 members,
Mellencamp issued a politically expedient, "No comment." Show-biz experience could prove useful on the Senate
floor, but Indiana can do a lot better—and sorry, John, you are no Ronald Reagan.
It is with the Republican Party that I have more concern. We have a right to expect much from the party that gave us Sen.
Richard Lugar. Two-thirds of Indiana Republicans are reportedly opposed to the recent comprehensive health care legislation
foisted upon them by the Democratic majority, and that in itself provides strong motivation to support a credible candidate
in the May primary. "Credible" is the key word.
Show me the candidate.
An experienced moderate would have the best chance in the fall election. No such luck. A host of conservatives are vying
for this opportunity. Prominent among them is former U.S. Rep. John Hostettler, a quirky Tea Party type. But it's a
bitter brew. Those of us who supported Bayh's collegial manner and centrist endeavors will shudder when presented with
Hostettler's fist-in-the-air reckless and polarizing rhetoric. Indiana should have had its fill of Hostettler. Talk
to voters in the 8th District. Hostettler couldn't even keep his day job, having been defeated by Ellsworth for that
congressional seat.
Candidates Richard Behney, a founder of the Indiana Tea Party, and Don Bates, a financial adviser from Richmond, have no
experience in government service. The U.S. Senate is not the Toledo Mud Hens. It's the big league. The guy who now holds
this position had eight years of experience as governor and before that was secretary of state. Our senators exemplify the
face of Indiana. The last thing we want is for that face to be a blank stare.
Marlin Stutzman, state senator from Howe, has eight years of experience in the Legislature and has garnered high marks from
the business community, but his ultra-conservative stances on controversial social issues render this otherwise-qualified
candidate untenable. He is young. With maturity comes moderation. Meanwhile, if the folks from his district want to send him
to Congress one day, that's another matter.
Dan Coats is the most seasoned candidate. A former U.S. senator, he also served as ambassador to Germany in the Bush administration.
But how do you stuff this toothpaste back in the tube? Coats was captured on video confiding, "If you don't tell
the good people of Indiana, Marcia and I decided that there might be a better place where some of these older bones can absorb,
so we have joined her parents in North Carolina. We have a home down there that we use as a second home but hope it will be
our first home and then I'll be able to register and vote for your two senators and congressmen and be a North Carolinian."
In light of this admission, Coats' opportunistic announcement of his candidacy appears hollow and disingenuous. Are
Hoosiers going to buy it?
Given the array of candidates available, many Republicans may cross party lines to vote for senator just as they did in the
national election when our red state turned blue. The state Republican Party may miss an opportunity that doesn't present
itself often. I predict Ellsworth by default.•
__________
Maurer is a shareholder in IBJ Corp., which owns Indianapolis Business Journal. His column appears every other week.
To comment on this column, send e-mail to mmaurer@ibj.com.
Please enable JavaScript to view this content.