Butler University basketball forward Avery Jukes has a mission that may help take his mind off losing the NCAA championship.
Jukes raises money so Ugandan children can attend secondary school through his Jukes Foundation for Kids. The group's
major fund-raiser, "Champions for Children," will be April 24 at the NCAA Hall of Champions.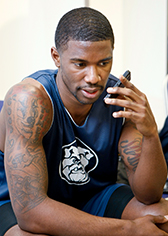 Avery Jukes started a foundation to raise money for Ugandan school children. (AP Photo)
Based on Butler's well-known tournament run, and the outpouring of support from Indianapolis residents, event coordinator
Justin Rakestraw said he expects a larger crowd at this year's event. The foundation hopes to raise $20,000.
Last year's gala event raised $17,000 and now sponsors five students in secondary school.
The Jukes Foundation was established in 2008 as a chapter of Ambassadors for Children, a local not-for-profit leading trips
that combine volunteering with tourism. Jukes first went to Uganda on an Ambassadors for Children trip with 15 other students,
who helped build a school.
"Our mission is to make a global impact by helping kids around the world to receive food, clothing and a suitable education,"
Jukes said in a prepared statement.
Jukes is a senior, but Rakestraw said his friend will be in Indianapolis for another year because he's working on degrees
in engineering and math.
Please enable JavaScript to view this content.