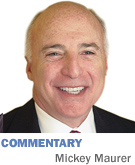 Angela Brown will be my guest for the 10th installment of Mickey's Corner at 7 p.m. June 7 at the Jewish Community Center, 6701 Hoover Road.
In the book, "19 Stars of Indiana," I wrote the following in a chapter about Angela Brown: "Since it was established in 1883, New York's Metropolitan Opera has been known as a venue for the great voices of the world. Extraordinary performances have come to be expected. So it was on Friday, October 29, 2004, when a nervous soprano was about to debut before a full house in Verdi's classic opera "Aida." By 8 that evening, the orchestra had completed its tuning. The lights dimmed. The chandeliers slowly rose into the reaches of the ceiling, and the elegant gold silk curtain began to pull back and sweep up. The audience was ready.
"Her first aria, 'Ritorna vincitor,' went smoothly and was met with warm applause. Then the soprano relaxed and hit her stride. Her magnificent and nuanced performance captured the emotional range of the Ethiopian princess, Aida, from her brief happiness to her tragic decision to be buried alive with the Egyptian general she loved. It takes a special gift to master the role of Aida, and the audience knew it had witnessed something rare. The opera ended amid cries of 'Brava!' and an immediate and extended standing ovation. Adoring fans rushed down the aisles proffering bouquets and throwing flowers onto the stage. After more than 20 years of hard work, Indianapolis native Angela Brown had become an overnight sensation. She cried as she thanked the audience profusely. The New York Times summed up her performance in four words: 'At last, an Aida.'"
Brown will sing for us and share memories of her childhood performing in musical programs at Crispus Attucks High School and regular roles at Indianapolis Civic Theater and the defunct CB Kendall Musicale, a cabaret restaurant in Indianapolis.
Brown's credentials are genuine. She holds bachelor's degrees in music and arts from Oakwood University and studied in the master's program at Indiana University under the tutelage of the renowned Zeani, who had reigned as "prima donna assoluta" at the Teatro dell'Opera in Rome for 25 years. Zeani told Brown that "the blood of Verdi courses through your veins." Brown set for herself a goal of singing in all the opera houses in the world and we will learn how far along she is in completing that quest.
Despite Brown's crowded performance calendar, she finds time for many related activities. She has recorded a number of CDs, including one featuring her favorite Verdi arias, and another with her favorite spirituals. According to Brown, the original spirituals were written for the classical stage to be sung by classical singers.
For opera companies that want to enlighten, broaden and add to the diversity of their audiences, Brown fashioned a clever one-person show, "Opera from a Sistah's Point of View." Its goal is to bring opera to audiences that normally would not attend. Brown has performed this concert not only in African-American churches, but also at corporate functions. The program mixes popular arias with witty conversation. For example, when discussing "Aida," she tells her audience that "no man is worth climbing into that tomb. There are other men out there. There are other fish in the sea. Honey, you can find another man, it's not that good. Ladies, is it ever that good?" People relax and laugh. They understand that opera is really not that difficult and that one does not have to miss out on this wonderful expression of art just because it seems daunting at first.
Brown has a voice that reaches extraordinary heights from roots that are set deep in Hoosier soil. She is a diva with a heart as big and as soft as her magnificent voice. Come experience both with me at Mickey's Corner.•
__________
Maurer is a shareholder in IBJ Corp., which owns Indianapolis Business Journal. His column appears every other week. To comment on this column, send e-mail to mmaurer@ibj.com.
Please enable JavaScript to view this content.