Running the family hog farm is what Lloyd Arthur always figured he would do, and at this point he doesn't have much choice.

The 1,000-sow operation south of Greenfield will produce about 25,000 hogs this year. With prices up sharply from six months ago, Arthur hopes he can rebuild some of the $3 million in farm equity that he lost in 2008 and 2009, when pork producers across Indiana suffered deep losses.

"All of us are of the same mind-set," Arthur, 32, said of his pig-farming peers. "We've lost so much money, we have to stay in it to get it back."

The prices hogs are fetching will help farmers begin to climb out of the crater. Average pork prices may approach record levels this year, Purdue University agricultural economist Chris Hurt said. He's predicting an average price of $53.63 per hundred pounds. The record is $55.44 per hundred pounds, set in 1982.

Returns could swing from an average loss of $24 per hog in 2009 to an average profit of $17, Hurt said.

"All the negatives are positives," he said. For starters, so many producers exited the business that supplies dropped to a sustainable level. Consumer demand is rising, along with the economy. So-called "swine flu" no longer dominates headlines. Finally, important export markets, especially China, have reopened their doors after cutting off U.S. pork over concerns about the H1N1 virus.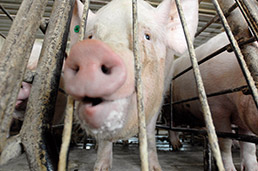 The Arthur family's hog-farming business slid into bankruptcy this month. The company hopes a restructured bank loan and improved market conditions will usher in better times. (IBJ Photo/ Perry Reichanadter)
Despite improving conditions, Hurt does not expect the industry to ramp up production for many months. Pig farming is a capital-intensive business, and most farmers maxed out their equity just to survive the last two years, he said.

"They're not going to get the loans," Hurt said. "It's going to be some time before we get expansion."

Hendricks County hog farmer David Hardin agreed that the pork industry will need time to get back on its feet.

"We're hoping we're still going to be around next year," Hardin said of his family farm west of Danville. "It'll be a multiyear effort to rebuild the equity that's been lost in most producers' farms."

Indiana is home to 3.6 million hogs and has the fifth-highest pork production in the country. Before the slump, the other white meat looked so promising that Gov. Mitch Daniels set a goal in 2006 of doubling production by 2025.

By late 2007, however, the industry headed in the opposite direction. Demand for ethanol drove up the price of corn for feed—half the cost of raising hogs—and prices at the packing house fell.

Those conditions, along with an ill-timed decision to double production from 50,000 hogs to 100,000, caused the Arthurs' farming business, Arthur Gilt LLC, to file for Chapter 11 bankruptcy protection earlier this month. The move will give the farm time to restructure its loan with First Farmers Bank & Trust, Indianapolis attorney Mark Drummond said.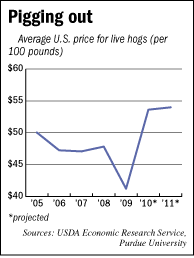 The Arthurs also raise gilts, which are female pigs raised for breeding rather than slaughter. Signature Farms, a division of Sheridan-based JBS United, is half owner of Arthur Gilt. Executives with JBS, a global swine research and production company, could not be reached for comment.

The pork industry's losses also drove a large, multistate operation to bankruptcy. North Carolina-based Coharie, which had expanded to Indiana after Daniels announced his initiative, filed for bankruptcy last fall and liquidated 30,000 sows.

Coharie had a farm in the tiny east-central Indiana town of Pennville and contracts with about 100 farmers in North Carolina and Indiana.

The number of large hog farms has fallen in Indiana. The state Department of Environmental Management permitted 1,650 farms with 600 or more swine in January of this year, down from the recent peak of 1,752 in January 2007.

The total number of hog farms in Indiana was 3,400 in 2007, according to the latest count by the National Agriculture Statistics Service.

Farms that survived 2009 likely hedged their risks in a way that keeps them from benefiting from today's surging prices, said Malcolm DeKryger, a co-owner of Belstra Milling Co. in northwest Indiana, which has an interest in five farms with a combined 11,000 sows in the region.

If they were lucky, they went into the downturn under contract with a packing house that covered their feed costs, plus a fixed price per hog, DeKryger said. Others that were riding out the market looked to minimize their losses as the bleeding continued into last fall.

Belstra ended up locking in less-than-favorable contracts, DeKryger said.

"I bought some corn that's probably too expensive, and I made decisions to sell pigs lower than what I could today," he said.

After last year, DeKryger said, pork producers will be looking for new ways to hedge risk. "Most people can't conceive of having their business whipsawed by a twofold price change in six months, but that's what we're trying to sort through right now."

DeKryger is optimistic about the long-term prospects for hog farming. He noted that pork is the preferred meat in many countries of the world, but those countries can't produce it on the scale of U.S. farms.

"People around the world, when they have a growing economy, they want to go from beans and rice to include meat," DeKryger said.

Hurt, on the other hand, ticks off a laundry list of trends that make expanding in a specialty such as hog farming look like a bad idea.

From U.S. policy favoring biofuels production to the Department of Justice's hearing complaints about unfair competition, Hurt said, "I see these being some of the most uncertain times."•