Brokering lease deals for government agencies has made John M. Bales a wealthy man.

Bales
His firm, Venture Cos., earned $2.9 million in commissions on lease deals for state agencies from 2006 to 2009, and another $270,000 in commissions on the sale of surplus state properties, records show.

And Bales has pocketed more fees on lease deals for local government agencies and private companies with contracts to run parts of the state's welfare program.
But the politically connected real estate broker has earned more than commissions. He has quietly acted as a developer for several public-sector tenants he represents—putting government agencies into buildings he owns or those owned by his friends and associates.

A recent example involves friend and partner Carl Brizzi, the Marion County prosecutor, who wound up owning a building in Elkhart where the state Department of Child Services later leased space.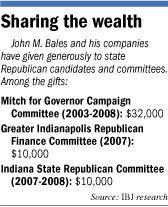 And IBJ has found Bales orchestrated deals to put the company that runs Indiana's welfare-to-work program into at least two buildings he owns in Indianapolis. The parents of a Bales partner at Venture own a third building, in Kokomo, that landed the same tenant.

Bales—who in recent years has given at least $10,000 in campaign contributions to Brizzi and another $30,000 to Gov. Mitch Daniels—also owns or has direct ties to the owners of space leased by the Marion County Coroner's Office, Marion Superior Court and Marion County Probation Office. In each case, he represented the tenant.

None of the deals appears to violate Bales' representation agreements, but local real estate brokers say it is unusual and questionable for a broker representing a government agency to put the agencies in his own buildings. The most important question: Were Bales' interests aligned with getting the best deal for the government agency?

Scott Newman, an attorney who represents Bales, contends the answer is yes.

Newman, the former Marion County prosecutor, acknowledged Bales sometimes bought buildings and served as a landlord. But Bales did not put tenants into his own buildings if there were viable market alternatives.

"That's really his niche—to place hard-to-place clients in quality facilities," Newman said. "What he's done is legal, is a service, and it has been disclosed."

Deal loophole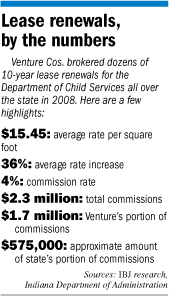 The state's lease deal with Venture, executed in 2006 and renewed in 2009, explicitly bans Venture and its partners and employees from "any ownership interest" or any "attempt to acquire" properties to be leased by the state.

In its bid documents, Venture amplifies the point: "Our mission is to represent our clients zealously and without favor and through that commitment, achieve superior results. We have never represented a landlord in a transaction with the State of Indiana."

But in some cases, Bales is the actual landlord in deals he brokered with Arbor Education & Training, the state's welfare-to-work contractor. The state's ownership ban does not apply to lease deals Bales arranged for Arbor—even though the state reimburses Arbor for its rent expenses at dozens of offices across the state.
IBJ.COM EXTRA
Click here
for a complete list of Bales' 2008 DCS lease renewals.
Records show Bales has an ownership interest in the former Southgate Plaza Shopping Center at 3920 Madison Ave., where Arbor leases 9,300 square feet for about $163,000 a year, or roughly $17.50 per square foot.
The building owner, North Crossing Properties LLC, is registered to a post office box Bales has used for his companies and political contributions. Marion County Probation also leases space in the building—another deal brokered by Bales.

Bales also owns a second Indianapolis building that houses Arbor, at 1213 N. Arlington Ave., through a company called Statewide Property LLC.

Arbor pays annual rent of more than $443,000, roughly $17 per square foot, on a lease that runs through 2016. Venture has listed the building for sale with an asking price of $2.6 million. It is assessed at $784,400.

'Inside information'

In another case, investors tied to a Bales associate own a building where an Arbor-run division leases space.

The Howard County Division of Family Resources moved to 400 N. Main St. in Kokomo in 2008, shortly after a company called MPK Acquisitions LLC paid $275,000 to acquire the 15,000-square-foot building.

The company's original incorporation documents list the Bales post office box, and Howard County property records list an address for MPK Acquisitions of 438 Edgemere Drive in Indianapolis—the home of Terry and Elizabeth Michael, parents of Bales partner Wendy Michael.

Wendy Michael said in an e-mail that Arbor was fully aware of her parents' involvement and signed off on it.

But the whole deal stinks if you ask David K. Rayl, a developer who owns the building where the state used to have its welfare office. Rayl's building now is vacant.

Meanwhile, the Arbor-managed agency has taken 4,100 square feet in the two-story, 400 N. Main St. building. It's paying more than $13 per square foot, or $54,000 annually. The second floor is listed as available for $9 per square foot.

"It's just all insiders taking care of themselves," Rayl said. "It would be like me being able to compete knowing all the inside information to put the deal together. They were supposed to be an independent agent representing the state. It ends up they were my competition."

Conflict of interest?

One of the earliest government assignments for Bales, in 2001, was to find space for the Marion County Coroner's Office. He settled on a 25,000-square-foot building at 521 W. McCarty St., and recruited a company with ties to his own firm to buy the building and act as the landlord. The prior owner, an industrial coatings firm, wasn't interested in becoming a landlord.

Follow along: The building is owned by an Indiana company called Ting LLC that is registered to an address in Frankfort, Ky. The property with the Kentucky address is owned by DLD Real Estate LLC, which is registered to Fred Dorsey. Dorsey is the father-in-law of former Bales partner Greg Rankin.

Records show Bales also has an ownership interest in 902 Virginia Ave., where the Marion Superior Court leases 12,000 square feet. The property is owned by RB2 LLC and Now Properties LLC, both of which are registered to the same post office box as the other Bales companies.

Acting as a broker for both sides of a lease deal is not unusual, but it can be a serious conflict for a broker to put a tenant he represents in a building he also owns, said Gus Miller, a veteran office broker and principal in NAI Olympia Partners.

That's because a building owner has much more to gain: Adding a long-term tenant can double or even triple a building's value, far eclipsing the commission check from a simple brokerage deal.

"The ability to maintain your objectivity gets sorely tested," said Miller, who handled some state leasing before 2006. "The gravity of the situation changes because now your interest as the owner of the property both on the upside and downside are so dramatically leveraged that it's much harder to be objective."

DCS windfall

More than half the commission Venture has earned on the state contract—about $1.7 million—came in 2008, as the state ramped up its new Department of Child Services. That's when the company ballooned to 30 employees and brokered leases in most Indiana counties.

The deals have rates that, on average, are 36-percent higher than the previous lease terms—in large part, state officials say, because of modified floor plans, expensive new fixtures and many more employees.

The state agreed to 10-year deals, a departure from the more typical four-year terms, in part to amortize the upfront costs over several years. The longer deals also led to much higher commissions for Venture.

Building owners paid 4-percent commissions on the total value of each deal, and Venture rebated 25 percent of the commission back to the state. The state collected about $967,000 in lease commission rebates from Venture from 2006 to 2009, and paid part of it back to Venture to cover the company's expenses.

One of the DCS deals went to a company called L & BAB LLC, which had just bought an office building in Elkhart. Brizzi and defense attorney Paul Page are equal partners in the building, which is valued for tax purposes at $900,000, though Brizzi did not put up any cash or credit.

The deal does not appear to violate the state lease agreement since Brizzi, a partner in several Bales real estate deals, is not a partner in Venture, state officials said.

L & BAB LLC and each of the other companies tied to Bales were registered by Benjamin Pecar of Barnes & Thornburg LLP—the same firm that consulted on Bales' successful bid to take over state leasing efforts in 2006 and a contract he earned for disposition of surplus city of Indianapolis property in 2008.

Pecar said he was not involved in the formation of the companies but rather listed as a contact in the event of a legal dispute.

State review

The Indiana Department of Administration, which oversees the Venture deal, launched a review of the company's lease deals for the state after learning of Brizzi's ownership in the Elkhart building, said Anthony Green, the division's chief of staff and general counsel.

Venture did not disclose the prosecutor's ownership of the building, but the department determined disclosure wasn't required under the contract. DOA does not oversee any of the deals with Arbor.

"We've reviewed contracts and haven't found any evidence of conflicts of interest on the state side," Green said. "We'll take appropriate action when we see such evidence and refer it to the Inspector General's Office."

The state still is using Venture, but the lease volume is down substantially from the rush of DCS deals in 2008, said Steve Harless, the state's leasing manager. The company lowered its commission to a flat $1 per square foot so it could retain the contract in 2009. Venture shares tenant-representation duties with Resource Commercial Real Estate.

"Up to this point, we think Venture has performed up to the contract," Harless said. "I have no evidence otherwise."

The state's Family and Social Services Administration, which assumed oversight of Arbor's contract from IBM last year, stopped using Venture for its own lease deals in 2008 and doesn't plan to use the company in the future, said spokesman Marcus Barlow.

"We just didn't feel like we were getting the customer service we were paying for," he said.

Arbor, a division of Louisville-based ResCare Inc., also has stopped using Venture. The company hired it initially to leverage Venture's state relationship to land better lease deals, said ResCare spokeswoman Nel Taylor. The company's contract permitted Venture and its principals to own buildings where Arbor signed lease deals, she said.

"At the time, our primary concern was making sure our offices were located in the same area as state offices so clients would have easy access to the services," Taylor said. "We really didn't get into who owns buildings. It wasn't a factor at all."

Introductions

Bales, now 43, already was an up-and-coming agent for CB Richard Ellis in 2002 when he got a big break: He brokered a deal for the Marion County Prosecutor's Office to consolidate its operations into 251 E. Ohio St.

Newman, the departing prosecutor, had picked Bales on the advice of Marion County Auditor Martha Womacks. Newman introduced Brizzi and Bales and left the details of designing the space to them.

The pair began to hang out and partner on real estate deals. Brizzi—then a rising star in his own right—helped Bales make more political connections, while Bales brought Brizzi into property deals.

Bales, a Carmel High School and Ball State University graduate, left CB Richard Ellis in 2003 to form Meridian Asset Development, which later became Venture.

There, he ramped up political contributions. Bales and his companies have given at least $52,000 to Daniels and state Republican committees since 2003, records show. He personally gave Daniels $10,000 in October 2004 and another $10,000 in July 2008, while Venture Cos. kicked in $5,000 in December 2007 and another $5,000 in August 2008.

Just three years after Venture was formed, the firm landed a plum state assignment: selling surplus state property and representing the majority of state agencies in lease negotiations all over the state.

Marion County Republican Chairman Tom John said he has no specific insight into how Bales landed the state contract.

But it probably was some combination of good ideas, a compelling presentation and Daniels' desire to shake things up.

"It's a matter of getting in front of the right people—some people can close and some people can't," John said. "One thing Bales is really good at is closing. Back then, he looked like a guy who was hustling and hungry."•