Texas-based Shell Oil Co. and Michigan-based Penske Corp. on April 21 announced a multiyear agreement starting in the 2011 racing season.

Financial terms of the deal were not disclosed.

The new deal includes associate sponsorship of Penske's Indy Racing League drivers Helio Castroneves, Will Power and Ryan Briscoe, and a primary sponsorship for Penske's NASCAR driver Kurt Busch.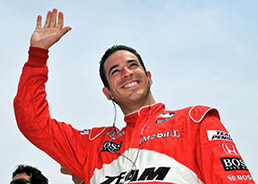 Shell has agreed to sponsor Helio Castroneves and two other IRL drivers. (AP Photo)
The deal signals an end to Penske's 19-year relationship with ExxonMobil. Penske Racing teams have used Mobil oils exclusively since 1991.

The deal also extends to Penske's fleet of moving trucks and auto dealerships. Beginning in 2011, the Shell and Pennzoil brands will be the "Official Fuel and Motor Oil Supplier" to the Penske organization in the United States.

Penske has earned more than 315 major race victories including a record 15 Indianapolis 500 wins and the 2008 Daytona 500, 370 pole positions and 22 national championships.