Central Indiana entrepreneurs are keeping the faith in consumer demand for art and crafts. One art-collecting couple has
opened a fine-art gallery in Zionsville, while the founder of a contemporary craft show is planning a boutique on Indianapolis'
east side.
Watts Fine Art opened May 1 at 20 N. Main St. in Zionsville. The owners are Shannon and John Watts, the former president
and CEO of WellPoint Inc.'s commercial business. The Watts will consign work by contemporary artists working in traditional
styles. That includes western and what Shannon Watts describes as work inspired by "great masters." One genre
collectors won't find in the new gallery is the Indiana landscape, something the Watts feel is already widely available
in Midwestern galleries.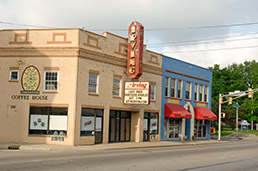 Irvington
will become home to INDIEana Handicraft Exchange this summer. The exact location has not been decided. (IBJ File Photo)
Watts hopes to benefit from everyday foot traffic in the arts-and-antique hub of downtown Zionsville. The gallery opening
was timed to coincide with the spring open house at nationally known artist Nancy Noel's Sanctuary.
INDIEana Handicraft Exchange founder Amanda Taflinger plans to open a contemporary craft boutique in Irvington this July.
Taflinger is drawing on a variety of nontraditional financing sources to open the store, Homespun. Taflinger and her husband,
Neal Taflinger, have raised $5,000 through Kickstarter, an online fund-raising site for creative enterprises. They also received
grants from the Irvington Development Organization and the Pepsi Refresh grant program. The boutique will follow a consignment
business model, in which craft makers pay shipping costs and set retail prices. Taflinger plans to include gallery space for
two-dimensional art and a workshop area that will host classes.
 
Please enable JavaScript to view this content.