As part of its relentless quest to squeeze more "non-airline" revenue out of its new terminal, the Indianapolis Airport Authority has OK'd a tenant's plan to offer car detailing and oil changes.

The services will be provided by Express Valet, which operates on the third level of the airport parking garage.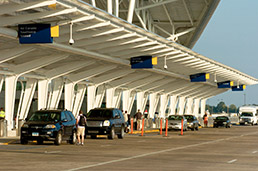 New service by a valet parking tenant is expected to generate more cash for Indianapolis International Airport. (IBJ File Photo)
Hal Darring, who manages Express Valet and is CEO of Global Parking Systems, had operated a parking facility at the former terminal that offered a higher level of amenities than standard airport parking.

The new services range from a $9 car wash to a full-vehicle detailing for $140. To get the $32 oil change, the vehicle must be parked with Express Valet for at least 48 hours.

Such "value added" services are a key part of the airport's strategy, said John Clark, CEO of the Indianapolis Airport Authority. There is no shortage of ideas to squeeze more money out of the $1 billion terminal, including the possibility of concerts and a farmer's market atop the roof of the parking garage.

Airport managers are also looking for ways to draw people to the terminal to shop and eat. Earlier this year, the airport authority hired a consultant to study reuse potential of the former passenger terminal along High School Road.