It's axiomatic in education these days that effective schools require effective principals.
But to handle the biggest challenges of today's public schools, principals might need a different kind of training.
That's why three Hoosier universities—Notre Dame, Marian and Indiana—are moving to launch programs that
seek to apply MBA-style training—systemic thinking, change management, statistical analysis, etc.—to the unique
demands of schools.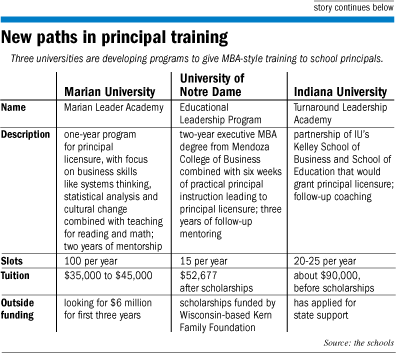 "What we're looking at is, how do you create cultures, school cultures, that lead to high-quality outcomes?"
said Lindan Hill, dean of education at Marian, a small Catholic college in Indianapolis.
Hill, sitting in his dimly lit basement office behind a desk covered with books on education and management theory, said
he's been working day and night to launch the Marian Leader Academy in time to enroll as many as 100 students this fall.
Notre Dame's Educational Leadership Program has 15 slots open for this fall. And IU has applied to the state to fund
a Turnaround Leadership Academy for as many as 25 students a year.
The combination of business and education training receives a heavy dose of skepticism from many current educators, who question
how easily business administration training can translate to public schools.
But the timing of these programs couldn't be better in the eyes of Tony Bennett, Indiana's superintendent of
public instruction. He will have the power next year—for the first time in state history—to take over as many
as 23 failing public schools and install new leadership to turn them around.
"Turnaround leaders are different kinds of leaders. We're now looking at how we attract, how we train those types
of leaders," Bennett said. He added, "Our goal is to take the best practices of business and mold it with the
ideals of education."
Bennett wanted to fund a Turnaround Leadership Academy using federal money being doled out through the Race to the Top competition.
But Bennett's application finished 23rd among states in the first round and, after a feud with Indiana's teacher
unions, Bennett decided not to apply in the competition's second round.
That threw uncertainty on the plans of leaders at IU's School of Education and Kelley School of Business, who want
funding to tailor an executive MBA program for principals.
But Notre Dame and Marian are charging ahead, counting on private foundation grants to make their programs a reality.
Chasing funding
Notre Dame has received a grant from the Wisconsin-based Kern Family Foundation to cover nearly half the tuition
for each of its students. The MBA program still would cost nearly $53,000 over two years, but Notre Dame is hoping school
districts foot half of that bill on behalf of rising stars they want to become administrators.
 

Hill
Marian has received a planning grant from the Kern Family Foundation to get its program going, but is still looking for about
$6 million to cover all its students' full tuition costs, which could range up to $45,000 over three years. Hill said
roughly half a dozen foundations have expressed interest in funding the program.
The Kern Foundation has been pouring money into education reform, including charter schools. It approached Notre Dame after
seeing Texas-based Rice University start an educational entrepreneurship program in 2008. A call to the Kern Foundation was
not returned.
In Indiana, Kern has also given a grant to the Indianapolis-based think tank Sagamore Institute to help Notre Dame and Marian
connect their programs to the broader policies of Indiana officials—namely, Bennett and Gov. Mitch Daniels.
Sagamore will host a meeting to discuss Notre Dame's program June 3 on the Marian campus. The invitation-only event
will include Bennett and superintendents from around the state, said Sagamore President Jay Hein.
Sagamore will later stage meetings around the state to promote both Notre Dame's and Marian's programs. It also
hopes to prepare events and materials that could help diffuse the content of those programs to current school leaders in Indiana
and nationally.
"We need to reinvent principal education in part to change with the times," Hein said, adding, "The traditional
education programs have focused more on the classroom and less on the institution overall." Hein sees value not in replacing
one with the other, but in combining the two.
Training principals
Principals are trained quite differently from managers in the for-profit and not-for-profit worlds.
A 2007 study published by conservative scholars Rick Hess and Andrew Kelly noted that educational leadership programs are
filled with readings of theorists who stress consensus building and following proven best practices.
Nearly absent from the study of 31 programs were readings of famous management thinkers, such as Jim Collins, Tom Peters
and Peter Drucker.
Hill at Marian is hoping to bring in national-level writers, thinkers and managers to teach weekend seminars at the Marian
Leader Academy, then supplement them with instruction by Marian business, education, science, math and liberal arts faculty.
But current principals don't see management training as a panacea. Steve Baker, principal at Bluffton High School and
incoming president of the Indiana Association of School Principals, said he's never heard principals say they're
struggling with the business side of their jobs.
"Principals don't need more business; if anything, we need more training with our at-risk students that are more
mobile, [or how to] deal with families that don't value education. Those types of things, MBAs aren't going to
help me with," said Baker, who has been a principal for 11 years after teaching high school math.
"We're not struggling with budgets and data and things like that," he added. "People outside of education
just kind of look at it and say, 'Well, if they had more of a business mind, things would go better.' And that's
just not true."
Baker also questioned the relevancy of the lessons of the business world for public schools. He referred to a now-famous
story among educators, told by former businessman Jamie Vollmer. Vollmer notes how the ice cream business he used to run insisted
on only the best ingredients to make the best product. But public schools have a radically different mission; they accept
whatever ingredients (students) show up, no matter the problems they have.
Gerardo Gonzalez, IU's education dean, largely agreed. He argued that IU's principal training program teaches
plenty about school law, data management and the business aspects of running a school. But Gonzalez thinks—more so than
the leaders at Notre Dame and Marian—that there's a huge amount of work to do to make business training apply
to public schools.
"I don't think you can just take a program or a set of skills that have developed in the business setting and
transfer it to the education setting," he said, "because they are different. The setting is different, the clientele
is different."
But Chris Clemons, director of Notre Dame's Educational Leadership Program, said the criticism shows lack of understanding
about what MBA training is really about.
"You don't go to business school to become a banker. You go to become an effective organizational leader,"
he said. "We would argue that business school is relevant to any organization."•
Please enable JavaScript to view this content.