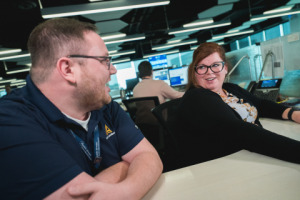 Indianapolis-based Republic Airways announced plans Thursday to launch what it says is the state's first aircraft dispatch training program. The airline said the paid training program will begin in January with a class of up to 20 students.
The program is slated to take six to eight weeks to complete with participants earning a weekly stipend. Once they complete the course and receive their FAA aircraft dispatcher certification, the participants will join the company as aircraft dispatcher trainees in its Systems Operation Control center in Indianapolis, Republic said.
Republic said after the participants complete the training, they will receive a job offer with the company. Aircraft dispatcher pay at Republic starts at $20 an hour, and the position offers opportunities for career growth, the company said.
"As the airline industry recovers from the pandemic, we are seeing rapid growth and opportunity for airline careers across the industry, including dispatching," Paul Kinstedt, chief operating officer for Republic, said in a written statement. "This program will bring more skilled job opportunities to people in and around Indianapolis while also helping our airline retain talent by hiring more people locally and training them onsite."
Republic aircraft dispatchers work to plan flight routes, file flight plans with the Federal Aviation Administration and communicate safety information to pilots during flights to help navigate weather or other challenges. Republic says the program will offer classes on a quarterly basis.
Republic announced plans last month to develop a $200 million headquarters and aviation training facility at the southeast corner of 126th Street and U.S. 31, in Carmel's Meridian Corporate Corridor.
The project includes a 105,000-square-foot training facility standing three stories tall near U.S. 31. Early designs show windows will display Republic's 10 simulator training bays, which run 20 hours a day, 360 days a year to offer training for pilots, flight attendants and other employees.
Republic opened its Leadership in Flight Training, or LIFT, Academy for potential pilots in 2018 at Indianapolis International Airport. It expanded the program in 2019 by offering an aviation maintenance technician apprenticeship program.
Please enable JavaScript to view this content.