Hotel occupancy rates in the last two years have plunged nationally and locally to levels not seen in decades, putting a number of hotels at or near the financial breaking point. But relief finally appears to be on the way.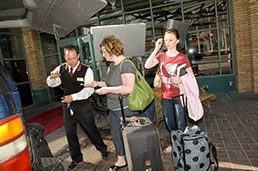 Crowne Plaza's Matt Costello helps guests at the downtown hotel, where 2010 business has been brisk. (IBJ Photo/ Perry Reichanadter)
It's a sure sign that things have been desperately bad when hotel operators here are rejoicing over a forecasted 3-percent decrease in the local hotel occupancy rate as is the case in 2010.

"This was the worst, most scary time I've seen in more than 30 years in this business because of how very fast and deep the decline was," said Glenn Brooks, vice president of General Hotels Corp., which operates 13 hotels in central Indiana. "Post-9/11 was scary, but it wasn't nearly as deep or as long-lasting as this decline."

Several of the industry's top forecasters are predicting a slow rebound will begin during the second half of this year, and continue through 2014. The bad news: In 2014, the industry will be back to 2007 levels—essentially meaning seven years with no growth.

"With the depths the industry sunk to in 2009, it's going to take a while to dig out," Brooks said. "Luckily in Indianapolis, it's not been as bad as it has been in some of the coastal markets or other bigger cities."

A better mix

Indianapolis' downfall has been softened by growing convention and corporate meeting business and special events, such as the NCAA Final Four, said Indianapolis Convention & Visitors Association CEO Don Welsh.

"You can't totally become recession-proof in this industry," Welsh said. "But [local convention and tourism officials] have worked hard to bolster the effort to sell this city."

Some hoteliers have voiced concerns about the new JW Marriott on the west side of downtown flooding the sagging hotel market. The 1,005-room hotel is scheduled to open in February 2011.

But Dale McCarty, general manager of The Westin at 50 S. Capitol Ave., thinks the JW and Indiana Convention Center expansion will make the rebound here sharper than national averages.

The Indiana Convention Center's $275 million, 420,000-square-foot expansion is expected to be finished in December. Including Lucas Oil Stadium, the city will have 1.2 million square feet of convention space, 65 percent more than it had in the Convention Center and RCA Dome.

With travel picking up for things like the Big Ten basketball tournament and Final Four, The Westin is already experiencing a 5-percent increase in occupancy this year, McCarty said.

"With the Super Bowl and the men's and women's Final Four coming back, and with our convention business increasing, I think this market is primed to really take off," McCarty said. "We have a good combination of attractions and infrastructure coming online to make that happen."

In the down times, McCarty said, hotels have had to be creative.

Forty percent of The Westin's business comes from people attending Convention Center functions, McCarty said. To pick up the slack during the economic slowdown and Convention Center construction, The Westin has relied on secondary sales services—such as Priceline, Hotels.com and Expedia—to fill its rooms.

"We've had to be very aggressive with our marketing," said Jesse Ghumm, general manager of the downtown Hampton Inn. "We've had to be willing to make some deals to draw in business during the last couple years."

Hitting rock bottom

The bottom began to fall out of the local hotel market in the second half of 2008. For that year, occupancy declined 4.5 percent. Last year, occupancy declined another 8.7 percent, to 53.3 percent, and revenue per room—a key measure of hotel business operations—plummeted 7 percent, to $44.72.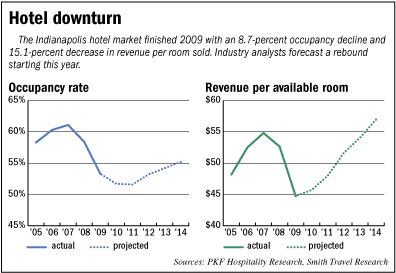 "The industry was gripped by a bunker mentality," said Mark Eble, a hotel consultant and Midwest regional vice president for San Francisco-based PKF Consulting Corp.

The downturn became so bad, Eble said, that many operators have gotten behind on their mortgages. He added that banks have been reluctant to take action against many borrowers in default because they don't want to take ownership of the hotels.

While downtown Indianapolis hotels have maintained an occupancy rate near 70 percent, which is more than 10 percentage points higher than the national average, according to Tennessee-based Smith Travel Research, suburban hotels haven't fared so well.

"It's not unusual for downtown hotels to fare better," Brooks said. "In some cases, that has been more dramatic here because this city has been built on convention business and on a revitalized downtown."

Hotels on the city's west side—including Speedway—and on the south side have been hardest hit, according to Smith Travel Research and PKF data.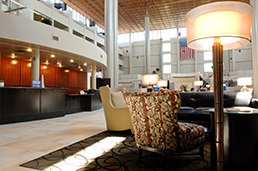 Hotels on Indianapolis' west side, including those at the airport and in Speedway, have been among the hardest hit in the metro area in the last year. But operators at the Crowne Plaza at the airport said increased interest in the Indianapolis 500 this May along with strong attendance at the Final Four in April helped solidify their business. (IBJ Photo/ Perry Reichanadter)
West-side occupancy, which includes the area around Indianapolis International Airport, dipped nearly 14 percent last year, to 49.3 percent. That's down from 61.3-percent occupancy in 2006. Travel experts blame part of the decline on the exit of the Formula One race at the Indianapolis Motor Speedway in 2007 and lower attendance at the Indianapolis 500 and NASCAR's Brickyard 400.

Hotels on the city's south side saw occupancy fall from 58.7 percent in 2007 to 46.1 percent last year. During the same period, revenue per room at south-side hotels fell from $38.73 to $28.91.

North-side hotels fared somewhat better. While occupancy declined 6.2 percent in 2008 and 7.7 percent in 2009, north-side hotels still maintained an occupancy rate of 54.2 percent last year and revenue per room of $41.63, down from $52.40 in 2007.

Indianapolis outpaces Midwest

Indianapolis' declines are in line with other Midwestern cities, such as Cincinnati and Kansas City. The declines here are somewhat worse than they are in Louisville, which saw occupancy fall almost 7 percent and revenue per room decline 12 percent. Milwaukee has fared worse than Indianapolis, with a 17-percent occupancy decline in 2009 and a 22-percent decline in revenue per room, according to Smith Travel Research.

Overall, the Midwest has suffered more than Indianapolis, with revenue per room dropping about 24 percent. Much of that is due to a dramatic drop in business in Chicago, the Midwest's biggest convention city.

Convention and trade show attendance nationwide has seen double-digit declines, Welsh said, but Indianapolis has done better.

"Our business here is less corporate and more association-related," Welsh said. "Corporate meetings and conventions have seen declines in attendance this year of more than 50 percent. Convention attendance in Indianapolis is only down 8 to 10 percent."

Though still the exception, several hoteliers said they are seeing modest increases already this year.

General Hotel's properties—including Holiday Inn North at the Pyramids, Homewood Suites at Keystone at the Crossing, and Holiday Inn Express on the far-south side—are all showing occupancy increases near 5 percent this year, Brooks said. General Hotel's biggest gains, he said, are at the company's two Crowne Plaza hotels, downtown and at the airport.

The improvement doesn't surprise Eble.

"The hotel industry very closely follows other economic indicators, and all of our research shows that jobs are coming back, lending markets are starting to loosen, and the economy is starting to grow," Eble said.

But he cautioned those who expect a speedy recovery.

"The overall economy is forecasted to rebound slowly," Eble said, "and we think the hotel industry will closely mirror that rebound."

PKF projects that occupancy rates will be static in 2011, but revenue per room will grow 5 percent. From 2011 to 2014, PFK is projecting that occupancy rates will increase about 7 percent and revenue per room will increase nearly 20 percent.•