Christel DeHaan's charitable organization has long used the former chief of RCI's connections in the resort industry to help raise money for the five schools it operates around the world.

But in the past year, Christel House International devised a new plan that would allow resorts to contribute in their normal course of business.

Indianapolis-based Christel House is brokering sales of in-room coffee to resorts around the country, taking a 10-percent royalty to do so. The coffee is roasted by Indianapolis-based Copper Moon Coffee Co. and packaged in red and green bags decorated with drawings by students at Christel House's schools.

DeHaan
So far, 30 resorts have signed up—enough to generate about $30,000 for Christel House this year. But the organization's ambitions are much higher.

Christel House officials recently attended a trade show trying to drum up more accounts. They want to have 200 resorts on board by mid-2012. And they are also eyeing a foray into retail sales of Christel House-branded coffee.

"It is an ideal vehicle for resorts to showcase themselves doing good and doing well together," said DeHaan, who co-founded RCI, which stands for Resort Condominiums International, in 1974. She became sole owner of the company in 1990, then sold it in 1996 for a personal gain of $550 million.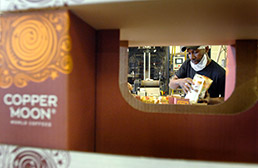 Nate Lewis packages coffee as it comes off the conveyer belt at the Copper Moon Coffee plant at 6555 E. 30th St., which makes coffee sold by Christel House. (IBJ Photo/ Perry Reichanadter)
DeHaan, 67, liked the idea because it raises money not by hitting up resorts for donations but by selling them a product they need, anyway. She also likes that her organization's access to such a large industry—there are 1,629 resorts around the country—makes the business scalable.

"It's a function of access and volume," DeHaan said, adding, "It's something that shows great promise and great hope for us to scale it to a sizable revenue stream."

The money from the coffee endeavor is a minor part of the more than $11 million Christel House spends each year to fund its education centers, which are in urban poor areas of Indianapolis; Bangalore, India; Cape Town, South Africa; Caracas, Venezuela; and Mexico City.

The organization raises $7.8 million per year in philanthropic and government support, with DeHaan paying the remaining expenses from her own pocket.

But the organization is trying to find sustainable ways to reduce that gap so it can afford to open more schools.

DeHaan has committed to fund the schools' general and administrative expenses, as well as Christel House's overhead, in perpetuity. She has been setting aside funds for that purpose.

But Christel House has a second school launching next month in India. And it wants to add more. So it needs growing sources of funds.

Launching the coffee venture could help Christel House do even more. The money from the coffee sales will be used for programs to help the more than 3,000 students in its schools, which could range from food to health care to uniforms to teacher salaries.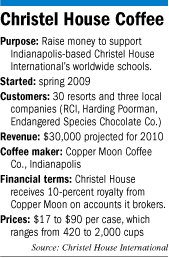 "We are always looking for ways to raise awareness about Christel House and raise funds," said Becky Arnett, a former RCI employee who is Christel House's director of time-share development.

In late 2008, Arnett checked with some of her friends who manage U.S. resorts, and found that no company had a commanding market share of in-room coffee. And because the coffee is given as a freebie by resorts, they want low prices.

So Christel House employees began researching suppliers around the country. They toured Copper Moon's roasting facility on Indianapolis' east side and liked what they saw.
Copper Moon used to be part of Marsh Supermarkets Inc. But once Marsh was acquired by Florida-based Sun Capital in 2006, Sun sold off several subsidiaries.

Cary and Brad Gutwein bought the business in two phases from Marsh, beginning in 2007. Copper Moon sells its own brand of coffees at Marsh stores, as well as at Kroger, Sam's Club and other groceries.

Allowing Christel House to take a 10-percent royalty on sales of coffee to resorts leaves essentially no profit for Copper Moon. But Cary Gutwein said his company wanted to get behind Christel House's mission.

"For us, it was just a good fit to support a local organization that we had familiarity with and we had respect for," said Gutwein, who is president of Copper Moon. He added that the opportunity to support poor schools is appealing to resorts as well.

"The resorts that take the product, they have other options," he said. "But I definitely think that there's tremendous amount of potential in this market [for] anyone who wants to join that cause."

Copper Moon also sells in-office coffee to businesses around the country. Some of those businesses have now started buying the Christel House brand coffee, which is a third line of business Arnett hopes to exploit. She said a decision on that front, however, is about 18 months away.

Christel House hopes the sales to resorts can spur additional sales to offices and in retail stores. Because more than 4.7 million households own a time-share interval at a resort, Christel House could develop fairly broad brand recognition quickly.

Already, one time-share owner in California tasted Christel House coffee and decided to order it for her real estate business.

"That's a demographic that has some disposable income, and a demographic who has a history of being involved with helping others in charitable causes," Arnett said of time-share owners. "Hopefully, they'll like the coffee and remember us."•