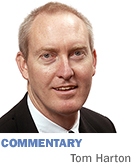 At least 15 years had passed since anyone had seen or heard from him.
When he showed up out of the blue in our lobby on a recent Friday, there were only a handful of people in the building who
would have recognized his name.
Mark Vittert, who founded Indianapolis Business Journal with John Burkhart 30 years ago this month, happened to
be in Indianapolis and had popped into our office on a whim.
Our director of marketing, Kim Harlow, and I are the only ones left from the Burkhart-Vittert days. Kim was out of the office,
so I took Vittert into a conference room and tried to give him an abbreviated version of all that had transpired since he
and Burkhart sold IBJ in 1986.
We talked about awards won, lives changed, people who had come and gone and about his old dog, Sally, the Newfoundland he
would bring to our office when he traveled from St. Louis for board meetings. (While the board met, it was the job of Brian
in accounting to walk her.)
At my urging, Vittert then retold the story, which I had heard many years before, of how the news organization that I and
66 other people count on for their livelihoods came to exist. It's a story worth sharing. It shows how a germ of an
idea can turn into something special and how people in business can reach across generations—even when they think their
biggest contributions are behind them—to pull others along.
The relationship between Vittert and Burkhart started more than 40 years ago. Vittert was a senior at DePauw University and
a member of the Phi Psi fraternity. His ambition was too big for the classroom. He wanted to start a business—and he
had an idea.
He thought consumer products companies would jump at the chance to get their merchandise in the hands of a new generation
of consumer. There were no smart phones or iPads, mind you. No Google, no ChaCha or Facebook to connect with potential customers.
But there were college kids, and those college kids could hand out samples and subscription cards and the like to other college
kids on campuses throughout America.
Vittert was passionate about his idea. The problem was he didn't have the money or know-how to get started. But he
did have the gumption to introduce himself to someone who did. He had heard of John Burkhart, a DePauw Phi Psi from 40 years
before, and knew he ran a successful insurance company in Indianapolis—College Life.
Burkhart agreed to talk to the brash, young Vittert about his idea. Burkhart's decision to support the company, which
was given the simple but descriptive name College Marketing, paid off. Eighteen months later, Playboy Enterprises, looking
for a premium service to offer its advertisers, swooped in and bought it. The Vittert-Burkhart relationship was sealed.
About a decade later, Vittert decided to pay his old friend a visit. College Life had been sold and Burkhart, then 71, was
contemplating life after the insurance business. Vittert had another idea up his sleeve. Crain's Chicago Business,
a weekly newspaper meant to appeal to the local business community there, had just started and seemed to be doing well. Vittert
was intrigued. Why not try the same thing in Indianapolis?
Vittert and Burkhart pictured a simple, little, four-pager—a newsletter really—that would be for and about the
people who conducted business here. What they got on May 19, 1980, was a 24-page tabloid that has evolved into something much
more significant in the city's media universe—thanks to the support of longtime owners Mickey Maurer and Bob Schloss,
who bought the paper in 1990.
The lead story in Volume I, Issue I, was about the late businessman R.V. Welch's dream of building a stadium and attracting
a National Football League team.
Vittert and I looked at that front page before he left. He remembered it fondly, almost wistfully. He talked about speaking
at Burkhart's funeral in 1999. He thanked me for reminiscing with him and for being a part of the IBJ success
story and walked out the door.
Thank you to the John Burkharts of today, who take the time to listen to and demonstrate their faith in younger generations.
And thank you to Mark Vittert and all those like him who follow through on their ideas and end up putting people like me to
work.•
__________
Harton is editor of IBJ. To comment on this column, send e-mail to tharton@ibj.com.
Please enable JavaScript to view this content.