Since none of its initials stand for things one would find on a traditional pizzeria-style pizza, let's break down
the P, the F, and the G in the PFG at Napolese, (114 E. 49th St., 925-0765).
In reverse order, the G is for gorgonzola, a blue cheese more often paired with fruit than made part of a pizza. The F is
for roasted fingerling potatoes, small spuds reacting flavorfully to the other simple ingredients and, in their haphazard
scattering, reminding diners that these pies aren't created by formula. The P is for the Italian bacon pancetta, included
here in not-very-salty, crunchy crumbles that make you wonder why they aren't a permanent part of the pizza-topping
pantheon.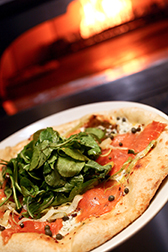 Artisan pizzas–including
one with smoked salmon–form the core of the Napolese menu. (IBJ Photo/ Perry Reichanadter)
The initial not in the name, though, is C. That stands for crust, the heavenly base concocted for the PFG ($13)
and the rest of the larger-than-personal/smaller-than-your-local-chain pies at Martha Hoover's latest eatery. With a
brick-oven crispness and the strength to hold its ingredients, the crust also features a light, pillowed rim. It's equally
effective containing the moist dilled crème fraiche on the Smoked Salmon variation and the more recognizable ingredients
(but here, still tasting new) on the Buffalo Mozzarella version ($14 for either).
While creative in its combinations, Napolese allows room for varying degrees of experimentation. Feeling bold? You could
try the Broken Yolk pie ($14) where you crack the quail eggs yourself. A little more conservative? Pick your own ingredients
($3 each) to add to the mozzarella and sauce topped House Pizza ($9). The management strongly recommends no more than three
in order to let the crust properly bake.
The pies at Napolese are light on sauce, so forgiveness isn't required for opening a meal with Baked Goat Cheese and
Tomato Sauce ($7). The slices of bread weren't quite ideal for carrying the soupy mix, but the effort was worth it (and
the bread replenished without our asking). I'd also have liked to have another size option besides the bowl for the
Minestrone ($6), but that's a minor issue.
We closed out with Gelato ($4 a scoop), made exclusively for Napolese by Zingerman's in Michigan. I know that, by design,
gelato isn't as sweet as ice cream, but still, the Rocky Road ($4 a scoop) seemed to have lost some character on the
long road here. On the other hand, our visit coincided with the inaugural appearance of the Torte De Nonna ($6), a deliciously
subtle pine nut and pastry cream tart.
It all added up to a dinner worthy of its Patachou parentage and one that justifies the line you'll likely find on
49th Street for months to come.•
—Lou Harry
__________
Second in our month-long series of visits to new Broad Ripple area dining spots.

Please enable JavaScript to view this content.