Indianapolis-based MZD Advertising was recently selected by Prime Lube Inc., an East Coast distributor of Chevron, BP and Exxon lubricant products, to introduce its newest diesel exhaust fluid, Blue Sky.

MZD is beginning work with Prime Lube immediately, starting with the production of materials for the upcoming Atlantic Regional Energy Expo trade show, including packaging design for the new product, a specification sheet and website development.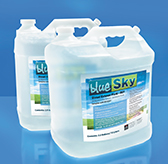 MZD officials think their new account could become one of the firm's biggest. (Photo Courtesy Prime Lube Inc.)
MZD officials said the account is in its formative stages but "has the potential to become one of [MZD's] top 10 accounts."

On Jan. 1, the U.S. Environmental Protection Agency began requiring a 90-percent reduction in nitrogen oxide emissions from on-road diesel vehicles.

Vehicles produced after Jan. 1 now have a special tank for diesel exhaust fluid, which becomes mist-like and is injected into the nitrogen oxide to break it down into nitrogen and water, both of which are safe and non-pollutant.

The Engine Manufacturers Association estimates the demand for diesel exhaust fluid will increase 50 million gallons this year to 750 million gallons by 2015.

MZD CEO Allan Zukerman said Blue Sky has enormous market potential and MZD is ready to help Prime Lube capture as much of the market as possible.