This week, free-associating across the arts landscape from the "Generations" show at the Eiteljorg Museum to "Heartland Art" and a one-man play at the Indiana State Museum to the Broad Ripple Art Fair.

____________

The temporary galleries at the Eiteljorg Museum are a bit crowded these days. That's because the curatorial staff has decided not to hold back any of the extensive, impressive Helen Cox Kersting collection that was gifted to the museum back in 2008.

And so nearly 800 pieces–jewelry, baskets, weavings, pottery, and more—are on display. Smart organization can only go so far to counter the feeling you're entering a warehouse environment.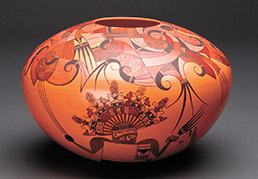 Jacob Koopee's pottery comes to the Eiteljorg as part of the Helen Cox Kersting Collection. (Photos Courtesy Eiteljorg Museum)
That's not to diminish "Generations (through Aug. 8). It's just to say that you should go prepared to be a little overwhelmed when you walk in and to not feel guilty for skipping over whole showcases of high-quality work in the interest of avoiding overload.

The title of the show refers both to the collectors and the artists. Kersting built the world-class collection on that of her parents, who began acquiring work in the 1930s. And much of the work comes from artists related to each other, working both together and separately. Grouping such work helps show the way tradition and innovation find new balance from grandparent to parent to child and how siblings have reacted artistically to the same influences.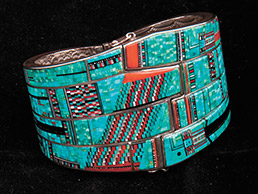 Artists Carl and Irene Clark teamed up on this intricate microfine inlay bracelet. (Photos Courtesy Eiteljorg Museum)
Advice: Take the time to consider the detail, whether in the intricately carved animals on the pots of Wallace Nez or the black-on-black work by Mary Martinez and family. And take just as much time to consider the control Dominique Toya needed to create her stunning abstract swirl vessel or Carl and Irene Clark used in their micro fine inlay jewelry.

____________

The Eiteljorg's White River State Park neighbor, the Indiana State Museum, is also featuring a time-spanning show. "Heartland Art: Selections from Your Indiana Collection" (through Feb. 13) features the work of Hoosier artists, past and present. T.C. Steele, William Forsyth et. al. are, of course, represented along with distinct work from contemporary artists Valerie Eickmeier (the sculpture "Spirit Boat II," with branched legs and sprouting surface), John Domont (with a painting featuring his signature bold colors and geometric landscape), Matthew Davey (with a troubling portrait of a contemporary man) and others.

Without making a strong overall statement or demanding a special trip, the show offers an appealing, if low-key introduction to the ISM's collection.

____________

After a visit to the exhibition, I returned to the Indiana State Museum for a performance of Rita Kohn's play "Before the Shadows Flee" (which ran May 16-22). The Fringe-length show provided a look into the heart and mind of actor Edwin Booth, poignantly caught between the influence of his adored father and the infamy of his notorious brother.

Presenting the show in a museum can't help but add a layer of "history-is-good-for-you" to the proceedings, but Kohn's play—and Ron Spencer's performance—offer much more than that. As with many solo shows, there isn't much of a dramatic arc and some of the transitions are stilted, but the play provides both historical surprises to those unschooled in Booth history (the attempted shooting of the actor while on stage, for instance) and compelling character moments. The combination of strong actor, deft playwright, and interesting historic figure more than made up for the lack of set, elaborate lighting, or other theatrical trappings.

In addition to its own pleasures, Spencer's recitations (as Booth) of soliloquies from Hamlet and his villainous uncle Claudius—both of which echo Booth's own story—left me wanting to hear and see Spencer perform more Shakespeare.

____________

Ron Spencer's home base, Theatre on the Square, provided one of the booth highlights at this year's Broad Ripple Art Fair (May 14-15).

There, a human-sized pink flamingo (performed by an anonymous actor) not only promoted TOTS' upcoming production of "Great American Trailer Park Musical," but also—I hope—reminded other arts groups that just signing up for a booth and talking someone into solemnly staffing it is a wasted opportunity.

It's called showmanship, folks. And when you have an audience of potential converts, why settle for just sitting in a chair and hoping someone comes up to chat?

That doesn't mean every cultural booth needs to be outrageous, of course. But Theatre on the Square created something that not only gave a sense of the company's spirit, it also linked directly to an upcoming production. Other groups could learn from that example.

You never know who might be a potential ticket buyer … or check-writer.•

__________

This column appears weekly. Send information on upcoming A&E events to lharry@ibj.com. Visit www.ibj.com/arts for more reviews, previews and blog posts.witter: IBJarts