The Arts Council of Indianapolis soon will move its office from Monument Circle to a smaller, street-level space on Pennsylvania Street with an adjacent gallery.

The move is symbolic of the council's ongoing reinvention, as well as the financial reality driving that effort.

The Arts Council has been trying since late 2008 to find a new source of funding that would replace local government grants that have shrunk from about $2.5 million to $1 million a year. The grants help support dozens of groups, from small dance companies to the Indianapolis Symphony Orchestra.

Nailing down new sources of money is so pressing that the arts council made it the first leg of a new mission statement: "build financial support and widespread appreciation for and meaningful engagement in the arts."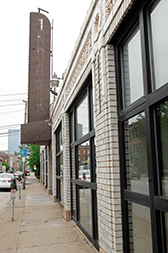 The Arts Council of Indianapolis will move to 924 N.Pennsylvania Street. (IBJ Photo/ Perry Reichanadter)
The Arts Council rewrote its mission statement as part of a two-year strategy. In general, the organization wants to become more visible to the public and raise Indianapolis' profile on the national arts scene.

John Pickett, executive director of the Indianapolis Opera, wholeheartedly agreed that increased funding should be the Arts Council's top priority. What the agency needs is a high-profile cheerleader, he said.

"They need some external advocacy that would come from constituents—corporate leaders and so forth—that believe the arts community is going to be important for economic development," Pickett said.

Currently, the $1 million a year for the Arts Council's major grant program comes from the city's general fund, which is mainly property-tax revenue, by way of the parks department.

That money had been in question since Mayor Greg Ballard, a Republican, rode into office in 2008 on a wave of opposition to increasing property and income taxes. Now the general fund is under pressure from the state-imposed caps on property-tax rates.

Arts Council President Dave Lawrence believes Ballard will make sure the funding continues, but from some alternative source.
Lawrence
"He's hoping we're able to grow funding for the arts," Lawrence said.

Michael Huber, deputy mayor for economic development, is overseeing that task. He said he doesn't know yet what the alternative funding source might be. "Obviously, we're going to have to work together to come up with a dedicated stream."

Huber also isn't sure whether the city will find a solution before 2011, but he said, "Our intent is not to cut them off."

Huber and the Arts Council are working on two other sources of money—general corporate sponsorships and construction-industry donations for public art. Huber hopes the Arts Council can play a role similar to the Indy Parks Foundation, which has attracted support from Brightpoint, Citizens Gas and Keller Williams Realty, as well as a $7 million Lilly Endowment grant.

As the city looks to funnel money from the sale of its water utility into other infrastructure, Huber said that's an opportune time to ask engineers and architects who land the contracts to make donations for public art.

Meanwhile, the Arts Council is cutting its own expenses. The current budget is about $2.5 million, down from $3.9 million last year.

That includes the $1 million city-funded grant program, other grants for individual artists, plus overhead for advocacy and marketing.

The council operates Artsgarden, the glass atrium spanning Washington and Illinois streets that hosts small, free events.

Most of the council's 12 full-time employees will move this week to 5,400 square feet of space at 924 N. Pennsylvania St. That's down from 9,300 square feet at its previous location. Indianapolis-based real estate firm Buckingham Cos. owns the Pennsylvania Street building just north of the Central Library.

ExactTarget will sublease the council's former offices in the Guaranty Building. The move will save the arts council $100,000 a year in rent, Lawrence said.

The new office should be easy to spot, even by drivers whizzing past on Pennsylvania Street. A private donor commissioned a mural by figurative painter Rachel Steely. Her paintings of butterfly wings will be transferred to a window coating, which was scheduled to be installed this week in the office's storefront-style windows.

Half of the new space is a gallery Lawrence hopes will generate revenue to support artist workshops and other services. The idea is to run the gallery on a traditional commission basis.

Local groups, such as Indianapolis Downtown Artists and Dealers Association, may be invited to curate exhibits. A grand-opening exhibit will come this fall.

"It's a completely new venture for the Arts Council," Lawrence said.•