senior vice president, chief information and digital officer
Eli Lilly and Co.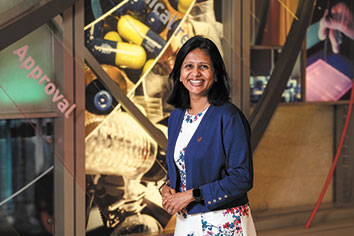 Major company achievements during tenure
Shah leads Lilly's global technology, digital, cybersecurity, advanced analytics and data sciences functions. She successfully led the merging of Lilly's information technology, information security, digital health, and advanced analytics and data sciences functions under one umbrella. As a result, Lilly's information technology functions have become more central to overall corporate decision making.
In recognition of that growing role, the position of chief information officer became part of Lilly's executive committee in 2017. "Today, IT is seen as a key strategic partner, versus a service organization, to enable business outcomes," said Shah, who reports directly to Lilly's CEO. Gaining a seat at the table "has allowed me to better understand and influence business needs and transformations and link my organization's goals and objectives to deliver on those strategies. Additionally, it has provided me the opportunity to influence beyond IT."
Shah said Lilly IT, in the last three to four years, has become vital to increasing productivity and efficiency as Lilly strives to broaden its pipeline of new medicines and bring more of them to market.
Recent tech problem solved
A diverse and inclusive information technology team is vital to Lilly's creation of innovative medicines. The People Empowerment Program for Information Technology, known as PEP IT Up!, was created to attract, engage, energize and encourage both new and existing employees. The program, which focuses on recruiting, developing and engaging a diverse and talented global workforce, is divided into four work streams: a strategic workforce plan, an attraction and recruitment effort, a talent development and management effort, and a focus on engaging and inspiring the team. Lilly created a Women in IT group in 2017, included a diversity and inclusion category in its CIO Awards program, and launched an IT career-planning conference for women in their first and second years of college.
Challenge faced that only tech people would understand
Collection and analysis of data is crucial to the success of clinical studies, an important step in the development of new medications. However, the system Lilly used as recently as 2015 was experiencing stability, performance and quality problems and hampering the company's ability to efficiently deliver medicines to patients.
Shah's team was challenged to create a better system and embarked on extensive research to benchmark industry solutions. Finding no best-in-class product, the team found a way to store data securely and streamlined the process of accessing the data. The resulting system—Clinical Users Working Environment—allows teams to collaborate securely on the collection and analysis of clinical study data and share files with internal and external partners. CLUWE also allows for automation of required business processes and standardized code sets.
First computer
An IBM 486 purchased in 1993. Before that, she had used university computers in India and the United States.
The road
Shah earned bachelor's and master's degrees in statistics and mathematics in India and her doctorate in applied statistics at the University of California-Riverside. She joined Lilly in 1994 as a senior statistician and was promoted to research scientist five years later. She became vice president for global statistical sciences and advanced analytics in 2009, and in 2012 assumed additional responsibilities as vice president for biometrics. The following year, she was named global brand development leader in Lilly's Biomedicines Business Unit, where she held global product responsibilities leading up to the approval of the medication Taltz. She was promoted to senior vice president and chief information officer in 2016. At the end of 2017, her role expanded to include responsibilities for information security, advanced analytics, and data sciences and digital health.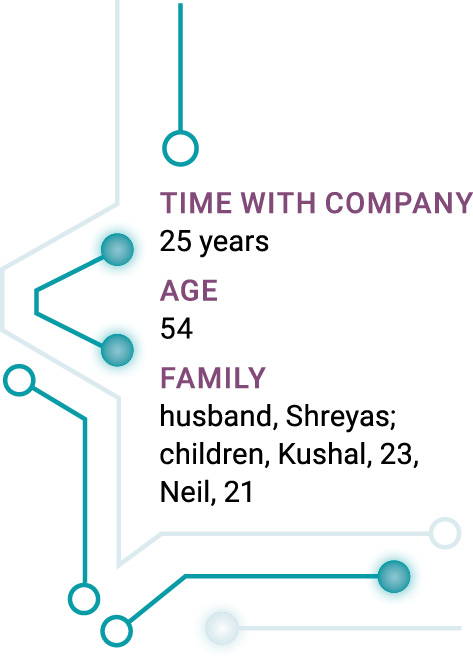 Go-to websites
google.com, wsj.com and shrimadrajchandramission.org
Favorite gadgets
iPhone, noise-canceling headphones and Vita-mix blender
Preferred work atmosphere?
"I like an open environment where I can be with my team. When I need focused or quiet time, I like a library or a hideaway place with a hazelnut latte."
My job would be easier if…
"my generation was more open to learning and adopting technology at a faster rate. Changing habits is hard!"•
Check out more CTO honorees.
Please enable JavaScript to view this content.