chief information officer
Federal Home Loan Bank of Indianapolis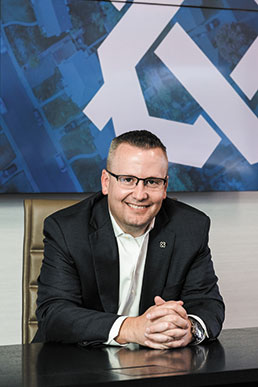 Major organization achievements during tenure
The Federal Home Loan Bank of Indianapolis is one of 11 independent regional cooperative banks across the United States. It is privately capitalized and owned by its member banks, credit unions, community development financial institutions and insurers across Indiana and Michigan.
"I'm the proudest of the team and culture that we've built since I took over information technology in 2015," Dawson said. "We have significantly invested in staff to improve our overall capabilities, leadership and succession planning. Our team has modernized the bank's disaster recovery capabilities, matured our cybersecurity program, modernized numerous systems, streamlined our overall governance processes, and continuously delivered value for our internal stakeholders and customers."
Challenge faced that only tech people would understand
The careful balancing act of being innovative, delivering value, mitigating risks (aging technology, cybersecurity, operational), having sound governance and strong operations is extremely difficult.
First computer
IBM Aptiva. "I spent time in the early '90s learning and using BASIC on IBM PCs."
The road
Born and raised in a small town in Manitoba, Canada, Dawson and his parents moved to North Carolina in 1995. That led Dawson to the University of North Carolina at Greensboro, where he earned a bachelor's in information systems and operations management. He started his career as a software developer and has spent most of it in the financial services industry in North Carolina working for commercial credit card, insurance and technology firms. Dawson and his wife moved to Indianapolis in 2014 when he agreed to lead the technology services group at the Federal Home Loan Bank of Indianapolis. A year later, he earned an MBA from St. Leo University (north of Tampa, Florida) and became the bank's chief technology officer.
Go-to websites
Gartner, Harvard Business Review, LinkedIn, Apple News
Favorite gadget
iPhone. "I always have it with me and use it for everything from news, shopping, staying connected to work, family and friends."
Preferred work atmosphere
"I prefer being in the office and interacting with our team and stakeholders. I have the privilege of working for an organization where the bulk of our employees are in one location, and I've taken advantage of the opportunity to connect with staff across the bank."
Mentors
"My parents. They instilled a strong work ethic in both of their sons. Their grit, determination and integrity have always been benchmarks that I've tried to live up to." Also Deron Streitenberger, the bank's chief business operations officer. "Selfless and relentless investment in my professional growth … and a testament to the power of strong mentors."
My job would be easier if …
"everyone we partnered with had some experience working within information technology and understood the complexity and challenges of delivering technology."•
Check out more CTO honorees.
Please enable JavaScript to view this content.