vice president of information technology
Republic Airways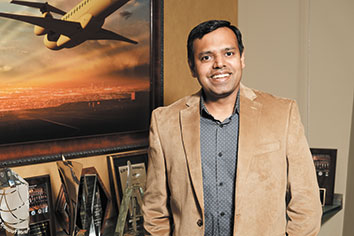 Major company achievements during tenure
Republic Airways operates nearly 200 Embraer 170/175 aircraft and offers scheduled passenger service with about 1,000 daily flights to 100 cities in the United States, Canada, the Caribbean and Central America. When he was hired almost two years ago, Shah's charge was to transform Republic's IT department into the most technologically advanced in the airline industry. "In the past year, we started a robotics practice that is constantly improving our processes and quality while reducing our operating costs," Shah said. "We also established a cross-functional information management group that focuses on using data we gather for insights to help the company make smarter decisions."
Recent tech problem solved
In May 2018, Republic opened the Leadership In Flight Training Academy, a commercial pilot training school in Indianapolis. LIFT uses state-of-the-art training technologies that combine flight, flight simulator, online and in-classroom training. Graduates are guaranteed a job at Republic. "At the launch of our LIFT Academy, we had to find ways to market aviation to different educational institutions around the country. Our team created the LIFT Lab, a mobile virtual reality flight experience that gives users the sensation of flying." The LIFT Lab debuted last July and has been a highlight at more than 150 events, from airshows and career events to Dell Technologies World in Las Vegas. Shah's team also developed a system that allows crews to do most paperwork digitally on iPads before taking off.
Challenge faced that only tech people would understand
To fly nearly 1,000 routes every day with the highest accuracy and completion factors requires many legacy and next-generation IT systems to work in sync and be available at all times. "It's like conducting a symphony orchestra nonstop, 24/7," Shah said.
First computer
A Pentium 80386 that he bought in graduate school. "I was so fascinated by the machine that the summer after I bought it, I did an internship in which I assisted in assembling computers."
The road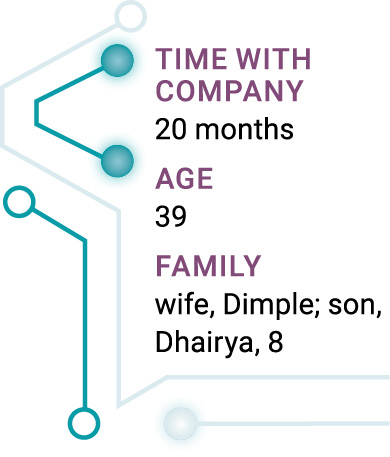 Growing up in Mumbai, India, Shah knew early on that he wanted to be an engineer. After completing his bachelor's in computer engineering, he went to the University of Missouri at Kansas City to get a master's in computer science. After graduation, he simultaneously worked for a private document management company in Springfield, Missouri, and earned an MBA. "My wife and I wanted to move to a warmer place in the U.S., but destiny had other plans in store for our family. I was presented with a wonderful opportunity with Interactive Intelligence in Indianapolis."
Mentor, and a goal
His mom is his mentor, "for teaching me to be to be a good human first, establishing values of servant leadership in me very early on and allowing me to chase my dreams by sacrificing hers."
Shah is also an avid sports fan, following both cricket and the NFL. "Kansas City Chiefs are my son's and my favorite team, and we have a father-son goal to watch them play at every NFL stadium."•
Check out more CTO honorees.
Please enable JavaScript to view this content.